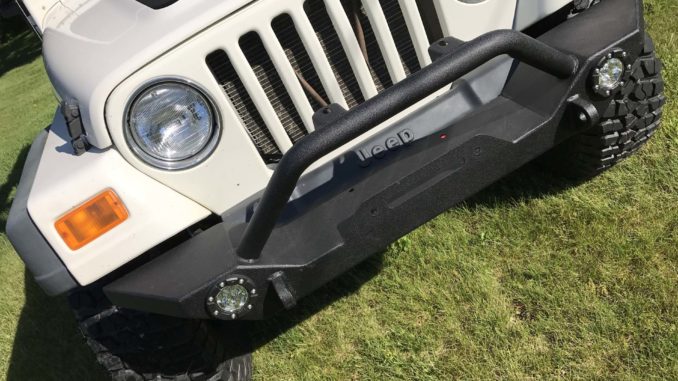 Of course we needed to replace the stock front bumper on the jeepfan.com 2004 Wrangler TJ Unlimited. The selections are plentiful but we wanted one that could accommodate a winch as well as keep the TJ styling and why not add some lighting capacity and tow points too.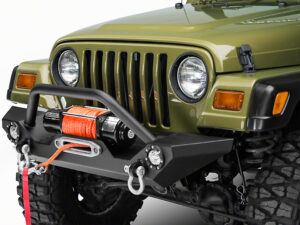 The Barricade Trail Force HD Front Bumper w/ LED Lights was the perfect fit for the Jeep. The bumper's styling matches the TJ as well as it includes all the items we were looking for at an almost unbeatable price.
The bumper is a direct fit for all CJ, YJ, and TJ Jeep models and includes an integrated winch and fairlead mount.
A front hoop with light mounts, integrated led lights, and tow tabs with D rings are all part of this package.
Installation
First we had to disconnect the factory fog lights and remove the stock bumper. On the surface this sounds simple enough except on our TJ nearly every factory bolt that needs to be removed presents a fight since they are rusted fast. Using plenty of PB Blaster and even some heat we eventually removed all 6 of the factory bolts. With the bumper removed we also removed the factory plastic sway bar cover.
Loosely place the bumper and hold in place by just starting a bolt or two. We added never seize to the new bolts to prevent a future fight if the need to remove them arrises.
For whatever reason we needed to elongate the mount hole on the lower passenger side. A quick job for an air die grinder. We added a heavier washer to prevent the bolt from bending it.
With all the bolts in tighten them up. We wired up the LED lights to the factory fog light wiring by slightly modifying the included wiring harness and the factory wiring. We had to trim the plastic sway bar cover to get it back on properly. The cover could be left off if desired.
This bumper looks so good on the front of the Jeep, now it just needs a winch.
Barricade Trail Force HD Front Bumper w/ LED Lights from ExtremeTerrain.com