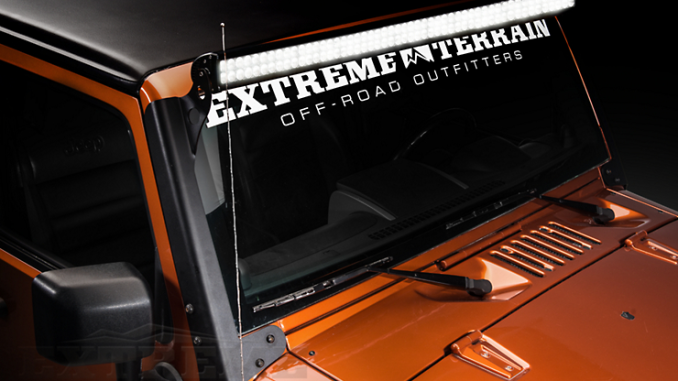 A light bar on your Jeep provides that extra light you sometimes need on the trail or on the road.  We decided to add an LED bar to the jeepfan.com JK and with the help of Extreme Terrain we chose a Raxiom 50″ Double Row light bar and a set of Lifetime JK mounting brackets.  In addition to the hardware a Raxiom Lighting Wire Kit completed the parts list.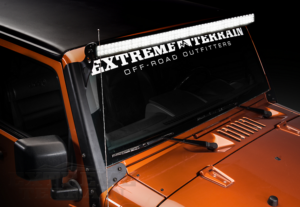 Getting started..
The installation of the hardware is rather simple and takes about an hour and only a few tools are needed.  We started by emptying the boxes and inspected the hardware.  The Raxiom light bar is impressive with the dual row LED.  It's not very heavy and can be installed with the help of someone to hold one side during mounting.
Lifetime Brackets by HyLine
The Lifetime brackets by HyLine are well made and include rubber backing to protect the Jeep's paint.  Installing the HyLine bar mounts only requires removing the 6 Torx bolts from the windshield plates and carefully installing the rubber backing and bracket on top of the plate/windshield.  Reinstall the factory bolts but leave semi-loose until everything is installed.  Repeat on the other side.
Raxiom Light Bar
To start we decided to go with the modern LED style light bar for the JK.  There are many other Jeep Wrangler JK Lighting options from the traditional fog light style bars to the high output LED ones.  LED lights can provide a high amount of light with a minimal wattage draw.
The quick details on the Raxiom bar…
100 3 watt high intensity LEDs
18000 Lumens
6000K Color Temperature
Combination flood/spot lights
The kit comes with some extra hardware that is not needed in this installation.  Only the small allen head bolts and washers are needed, we used different bolts and larger washers to provide a better clamping area.