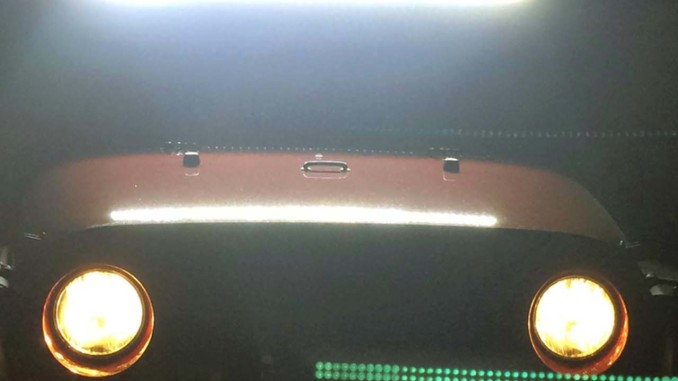 A light bar on your Jeep provides that extra light you sometimes need on the trail or on the road.  We decided to add an LED bar to the jeepfan.com JK and with the help of Extreme Terrain we chose a Raxiom 50″ Double Row light bar and a set of Lifetime JK mounting brackets.  In addition to the hardware a Raxiom Lighting Wire Kit completed the parts list.
Continued from Part 2 – Wrangler JK Light Bar Installation – Wiring it all up | Part 1 – Wrangler JK Light Bar Installation
The Test
So with everything cleaned up we did a little dusk testing before the darkness set in.  The LED lights are super bright in the daylight.  They project a clean, near white light.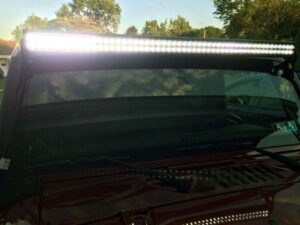 Darkness
Honestly when we set out to test the lights in the dark I was shocked at the super bright light that fills the area so completely.  Definitely a "Holy S*&T" moment.
We found some wooded area to demonstrate the drastic amount of light.
The fact that there are so many Jeep Wrangler lighting options available, you can see the amazing amount of light the LED bar can put out.  If you need to light up what's in front of your Jeep the Raxiom bar sure does a good job of it.  (love how it shows the film of pollen on the front of the jeepfan.com JK)
The Parts Breakdown
Raxiom 50 in. Double Row LED Light Bar
Lifetime LED 50 in. Light Mount
Raxiom LED Lighting Switch Kit
---
Jeep Wrangler Lighting | Jeep Wrangler JK Lighting | ExtremeTerrain.com
Part 1 – Wrangler JK Light Bar Installation | Part 2 – Wrangler JK Light Bar Installation – Wiring it all up