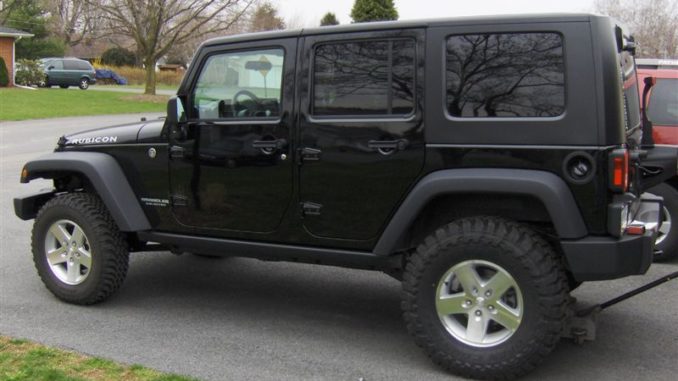 Since I pretty much decided on a set of Toyo Open Country M/T tires for the jeepfan.com JK Wrangler, my big debate was size…33 or 35. I was really considering a set of 35's until I tried them. The helpful staff at OK Auto 4WD & Tire were nice enough to mount a 35 on one of the JK's Moab rims and let me test fit them.
The tires are huge compared to the factory 32″ BFG Mud Terrains and really, the 35's wouldn't fit at all on the rear without a set of wheel spacers. From the image below you can see how the tire hit the rear upper control arm on the driver side. The TeraFlex 2.5″ Budget Boost Lift altered the rear axle location slightly to the passenger side due to no track bar adjustment with the kit. Just an FYI the axle will move to the passenger side as it moves down.
| | |
| --- | --- |
| 35″ Toyo on the rear | rear view |
| side view | control arm clearance issue…see where the dirt is rubbed away |
| drivers side alignment | passenger side alignment |
In order to fit these 35's a set of wheel spacers, probably the SpiderTrax brand, would need to be added to maintain proper clearance. An adjustable track bar or track bar relocation bracket may be beneficial to correct the rear axle alignment.
After all this I decided the 33″ size would be a better choice for this JK. Toyo makes a size 295/70R17, this works out to 33.3″ tall by 11.6″ wide. These tires are 1.5″ smaller and almost 1″ narrower. A set of spacers may be added if needed or if they add to the appearance. Also see, Steve's 2007 JK Wrangler Unlimited Sahara. Steve has a set of these Toyo's on too.
See the 295/70R17 size installed on the jeepfan.com JK.