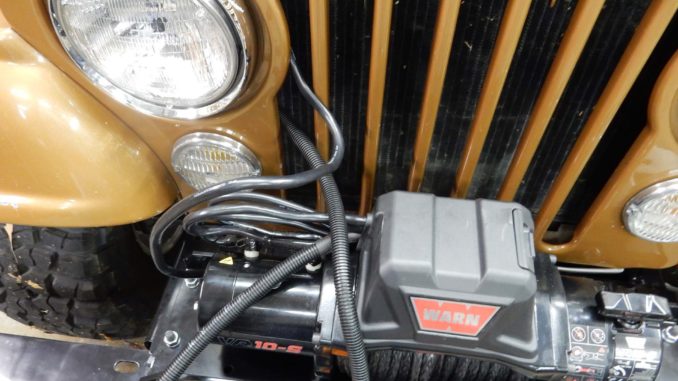 In Part 1 we installed a Warn VR10-S Winch onto the jeepfan.com 1978 CJ-5 and are now in need of some wiring.
Wiring
Getting the wiring from the winch to the battery on a CJ is pretty straight forward. We ran the wire inside the grill and exited behind the passenger side headlight through the hole originally used for the fresh air intake. The positive side wire was factory equipped with plastic loom for protection, a nice touch. We ran the wiring down the passenger side grille support and ended up at the battery.
The Optima Red Top with dual terminals is a nice battery for a winch. Always use the top terminals since the side ones are connected using an internal jumper. Heavy winch use can cause these to heat up and fail from what we hear. We picked up a set of wing nut battery terminals that allow a quick and simple disconnect of the positive wire when the winch isn't needed at the ready.
Tie up the wires to keep everything neat and away from heat or possible rubbing locations.
Testing
Attach the controller and test the winch operation, in addition install the hook. We attached the hook to the front tow hook to keep the line at the ready. Slack was removed from the line to prevent rattling but not too much tension was applied.
While it's not necessary to disconnect the winch when not in use it is a practice performed by most Jeepers.
Part 1 – Warn VR10s Winch Installation on a CJ
This and other Jeep parts are available from Quadratec