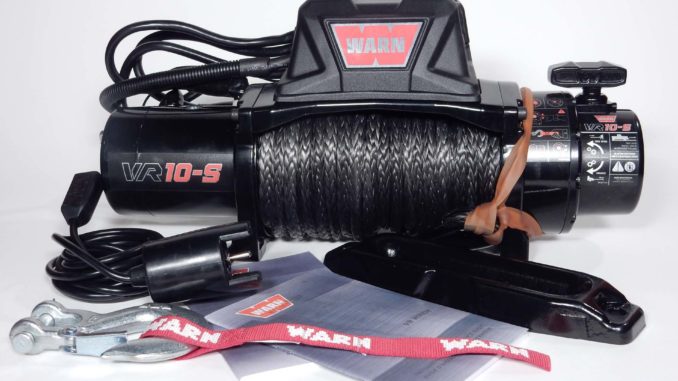 As part of the return from retirement of the jeepfan.com 1978 CJ-5 was outfitted with several new items to improve its off road prowess. A winch on the front of a Jeep is as useful as it looks good, our Jeep spent several years with a naked bumper and it was time for a change.
Over the years the synthetic line equipped winch has become much more popular and understandably so. Synthetic line offers benefits over steel, probably the most significant is weight savings – 72 lbs for steel vs 58 lbs for synthetic on this model.
Recently Warn introduced a new generation to the VR series winches that are worth a look. These winches aren't designed for hard core use like the Zeon series but will save you some bucks allowing you to buy more stuff. The VR10-S retails around $775 – We picked ours up from Quadratec.
In addition to the winch we picked up a Warn CJ winch plate – part # 13910
Installation
Mount and Winch
It's always a pleasure (for the most part) to work on a CJ due to its simplicity over more modern Jeeps. The hardest part is dealing with rusted bolts and wide manufacturing tolerances.
The Warn winch plate mounts to the side of the frame using 4 supplied bolts. On 76 and later CJ-s sleeves are tapped in place in the rear side bolts prior to installing the side plates. Insert the carriage bolts into the side plates and thread on a nut to hold in place during installation. Loosely install the side plates on the frame and test fit the winch mount. On the jeepfan.com CJ we needed to elongate the winch mounting plate holes to fit the frame plates.
When the winch mounting plate is properly fit remove it and install the fairlead to the plate then mount the winch. It's easiest to place the plate on something to allow access to the bottom. The Warn VR series winches come with square nuts that fit within the winch housing. Keeping them in place while installing the bolts is a bit of a bugger, patience is needed here.
With the winch secure place the mount onto the side mount plates and install/tighten the nuts on the carriage bolts. Tighten the mount plate side bolts. The winch should be ready for wiring, move on to part 2.
This and other Jeep parts are available from Quadratec