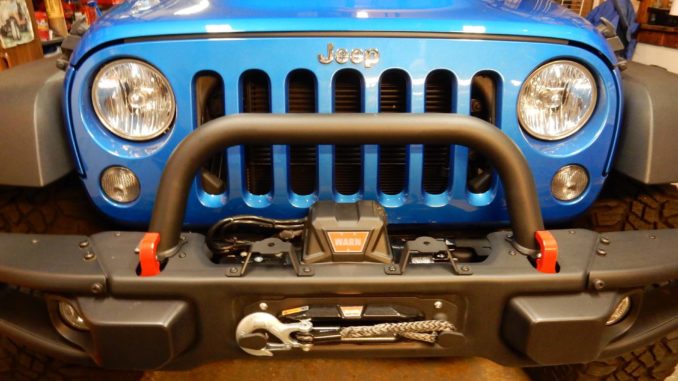 Recently we installed a Warn VR10-S winch on the jeepfan.com 1978 CJ-5. We liked the winch so much we decided to put one on the jeepfan.com 2016 Rubicon Hard Rock as part of a bumper upgrade with some Maximus-3 components.
If your Jeep is equipped with a 10A style bumper, found on the 2013 10th Anniversary Rubicon, 2014 Rubicon X, and 2015-2017 Rubicon Hard Rock, you just need a winch mount to get running. Since our Jeep is a Hard Rock we utilized a Maximus-3 winch mount as part of a Maximus-3 Bumper Project.
With the bumper removed the winch mount is installed using the Maximus-3 provided hardware and the winch is mounted. The gen II series VR winches don't need relocation of the vacuum pump found on 2012 and later JK's.
With the winch mounted it's time to find a suitable path for the wires to reach back to the battery. The JK engine compartment doesn't leave much space but running the wiring under the grille and up next to the radiator is a good path to reach the outer hood line leading to the battery. We found removing the air box allowed easy access.
Use wire ties to secure the wiring and prevent wear. We had to adjust the wires at the winch to get a nice fit. Afterward the wires were loomed together to make everything neat.
It's common for Jeep owners to disconnect the positive lead when the winch isn't going to be used. Adding a wing nut can make the job quicker without a wrench.
With everything wired up and tightened up the project is complete. The winch sits nestled within the frame rails of the JK and is well protected by the bumper. To finish off the look we added a set of KC HiLites 644 LED lights.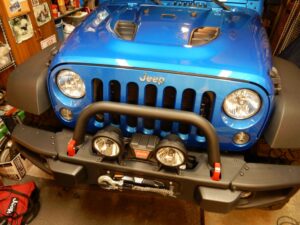 Warn VR10-S Winch from Quadratec
This and other Jeep parts are available from Quadratec