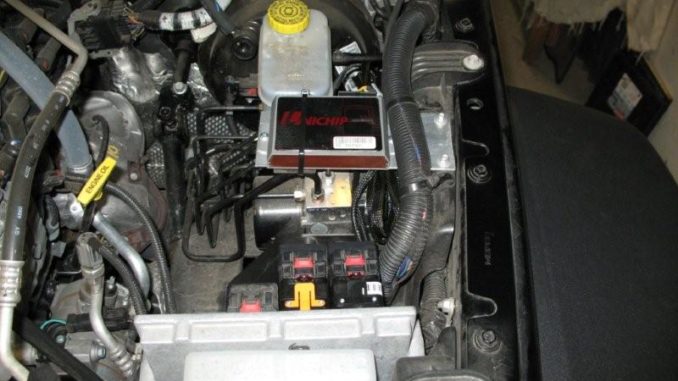 Road Test & First Impressions
During the initial run the performance improvement is immediately noticeable. The power band seems larger and acceleration is smoother and more confident. Driving the Jeep on the highway feels better. Merging into traffic doesn't seem as hair raising as before. The Airaid should only improve the Jeep further. Addition – The dyno test surely either proved we don't have any feel for changes or something else was up…see the Dyno Test. We all still swear there is something there!
Map switch
The Unichip is equipped with a switch that affects the Jeep's timing. One selection is less aggressive and the other is more aggressive. The lesser setting allows use of lower octane fuel but will sacrifice some power. Running the more aggressive setting without proper fuel may cause the computer to generate a Check Engine Light condition. The directions provide further details about the switch and it's settings.
Tuning possibilities
Unichip offers a tuning option with the Unichip that uses a Windows based PDA with bluetooth capability. The option is called Flux Power Display
The Flux Power Display features
Display, measure, record and play real-time engine performance data
5 user-selectable performance calibrations
Scan, read & clear Diagnostic Trouble Codes
Valet mode RPM Limiter
Password protected vehicle immobilizer
Virtual Dynamometer
Measure acceleration times
In addition to the Flux system an authorized Unichip dealer can fine tune the system by using a special module key.
Check out our dyno test. Together with OK Auto we had an opportunity to test out the Airaid and a Unichip performance chip on a dynamometer at G&S Autoworks in Oxford, NJ. The results were interesting.