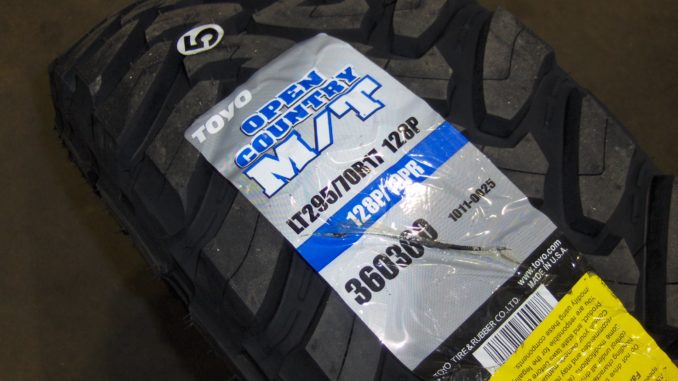 Fresh off the install of the TeraFlex 2.5″ Budget Boost Lift a new set of tires were needed to be fitted onto the jeepfan.com JK to finish the set up. After a visit to OK Auto and trying a Toyo 35″ we decided on a smaller size. See Will 35's fit on my JK Wrangler with stock rims?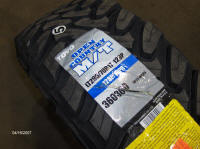 Why Toyo? We though long about what we are doing with this Jeep in order to make the best selection of tire. We are building this Jeep to be a fun weekend wheeler and yet be a Jeep with excellent street manners. The Toyo Open Country M/T tires seem to be a good mix of an aggressive off road mud tire but yet tamed slightly more than others to make street driving more civilized. The tires feature siping for wet/snow driving and a tread pattern that reduces noise and vibration.
The size…The Rubicon Jeeps come with 32″ BF Goodrich Mud Terrain tires so larger was only natural. Knowing that width would be an issue as well as height we found this tire size, 295/70R17. Running that through a metric tire size calculator it converts to a 33.3X11.6X17 tire. Basically a 33X11.5 slightly more narrow than a 33X12.5. The Toyo tires seem to run accurate to their claimed size meaning this tire did measure in at slightly more than 33 1/4″, often tire actual size is less than the claimed size. Note, after the tires were installed and had the Jeep's weight on them they measured in at 32 3/4″.
| | |
| --- | --- |
| size comparison | width comparison |
For example, a manufacturers 33X12.50 is actually 32.3″ tall. After deciding on the size OK Auto ordered up a set for us.
Installation: We took the Jeep to OK Auto and they mounted one on a rim and we did a test fit on the drivers side rear. This was a problem spot with the 35″ tires due to the upper control arm and rear sway bar link hitting the tire. The 295 tire still slightly hit the upper control arm and rear sway bar link but only at full suspension expansion. This is not a problem for every day driving and tire rub is only slight on the rounded surface. An adjustable track bar or track bar relocation bracket would probably solve the problem since the rear axle has moved to the passenger side due to the lift.
| | |
| --- | --- |
| mounting and balancing | arrow indicates sway bar to tire contact |
After we determined what may need to do to correct the rub the rest of the tires were mounted, balance, installed and tightened to the proper torque. We also tested front steering clearance, the only rub is with the front lower control arm when the steering is fully turned.
The new JK will have some potential issues when trying to install larger, wider tires. The two solutions to avoid the rubbing problems would be wheel spacers (like SpiderTrax) or aftermarket wheels.
For our review on the tires' see the review section.Toyo Open Country M/T Tire Review
What's it look like? Here is a small gallery of after images.
After thoughts:
The Jeep looks well balanced and still retains it's stock look. To the average observer the Jeep may look like it came that way, that was what we were looking for. See a write up on our thoughts regarding the off-road performance of these tires, we put them to the test at OK Auto's Grand Reopening weekend.
For additional questions and tire pricing contact…