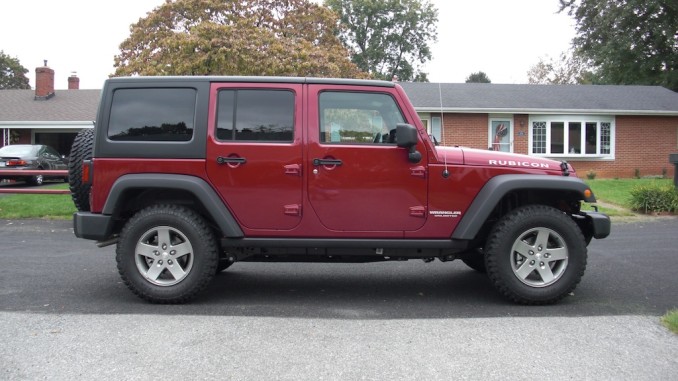 The Teraflex Leveling Kit installation took about 3 hours at a casual pace.  Our experience working with the JK helped us to get by the little tricky parts and keep moving.  After the installation we double checked all the bolts we had contact with during the install including re-torquing the lug nuts after 50 miles.
With this kit we did not need to recenter the steering wheel and have not noticed any difference in the Jeep's ride.  This kit isn't really intended for a Jeep used in serious offroading since the shocks will limit travel without extensions.  In general this kit did exactly what we wanted.  A little more height to a daily driver Jeep.
Before and after images
There is a nice subtle difference.
Measurements:
Front Bumper: Before 20 7/8, After 21 7/8
Rear Tow Hitch: Before 17 7/8, After 19 1/4 (might have been a difference in the fuel level)
Side Flares:
Front Before 36 1/4, After 37 3/8
Rear Before 36 1/4, After 37 1/4
You can see the installation averaged about an inch.  Exactly what we wanted.
Now for tires.  We decided on a set of 285/70R17 Goodyear Wrangler Duratrac Tires..read about em'.