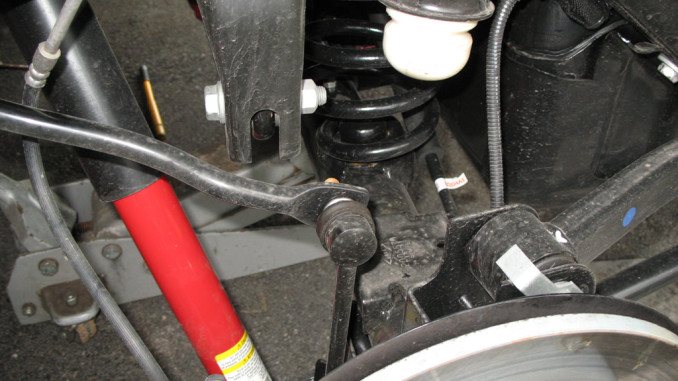 Part 3: Rear Installation
Installation of this kit is pretty simple and only requires basic tools, a good jack, and good jack stands.  Safety is top priority, make sure the Jeep is secured before working underneath.
Raise the rear of the Jeep and support the Jeep with jack stands placed under the frame rails just in front of the rear lower control arm mounts.  Remove the rear wheels and allow the axle to partially pull away from the frame.  Several items need to be loosened/removed to allow the axle to pull away fully.  Unhook the parking brake cables from the bottom of the body and unbolt the upper sway bar links.  Remove the bolt from the rear brake line brackets on both sides, pop off the axle breather tube, pop off the locker wiring retainer clip (Rubicon only), and pop off the wiring retainer clip for the axle sensor wiring.  Unbolt the bottom shock mounts.  Failure to remove these things may cause them to pull tight under the weight of the axle and get damaged.
Allow the axle to fully lower from the Jeep and remove the rear springs.  If you don't have a spring compressor you may need to pry the spring to pop if off the lower perch.
Insert the spring isolator over the retainer stem on the teraflex spacer.  Next the spacer and isolator need to be installed into the upper spring perch.  The Teraflex spacer has an upper mount locator that needs to pop into the hole in the upper mount.  Installation can be a little tricky.  Past experience with these spacers has taught us to use a little grease on the upper part and using a small bottle jack on the spacer and axle put pressure on the spacer.  Rock the spacer back and forth until it pops into the hole.  The spacer and isolator will stay in place after it's properly seated.
Install the rear springs.  Raise the axle to allow reconnection of all the items removed/loosened earlier.  Check that all items are tightened and reconnected.  Put on the rear wheels and allow the Jeep to sit back on it's own weight.