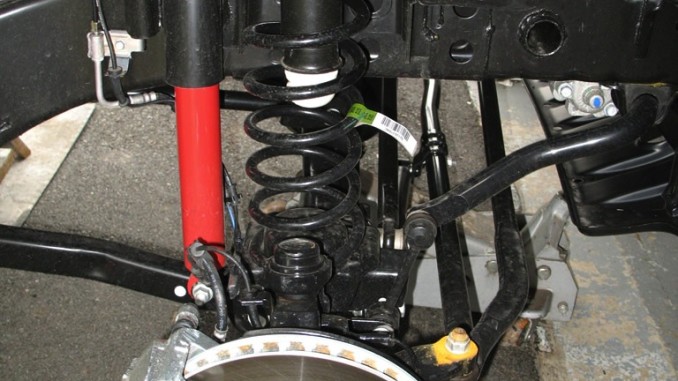 Part 2: Front Installation
Installation of this kit is pretty simple and only requires basic tools, a good jack, and good jack stands.  Safety is top priority, make sure the Jeep is secured before working underneath.
Raise the front of the Jeep and support the Jeep by jack stands under the frame rails behind the front lower control arm mounts.  Remove the front wheels and allow the axle to extend away from the frame.  Don't let the axle extend fully at this point, there are several items that need to be loosened/removed first.
Remove the sway bar links, keep the nut and bolt from the bottom handy, it will be reused for the new links.  Unbolt the bottom shock bolts.  On 2011 and newer Jeeps remove the bolt that holds the brake line bracket behind the bottom shock mount and pull out the brake line bracket.  Not doing so will cause the brake lines to pull tight under the weight of the axle.  On Rubicon models pop the locker wiring off the top of the axle to prevent it from being pulled tight.  Slowly lower the axle allowing it to pull away from the frame, watch for any other items that might pull tight.
After the axle is fully extended remove the spring and spring isolator.  If you don't have a spring compressor a little prying on the spring might be needed to pop it out of the bottom perch.
Next take the Teraflex spacer (or spacers) and slide it up the upper perch tube followed by the isolator.  The isolator should hold the spacer in place.
Reinstall the front springs.  It will take a little muscle and prying to get the spring to pop into place if you don't have a spring compressor.
Install the new sway bar links using the old bolts on the top and new bolts on the bottom.  Jack up the axle to allow re-attaching the brake line retainer, shocks, and locker wiring.  Check that all items are secured in place and complete the front by putting on the front tires.