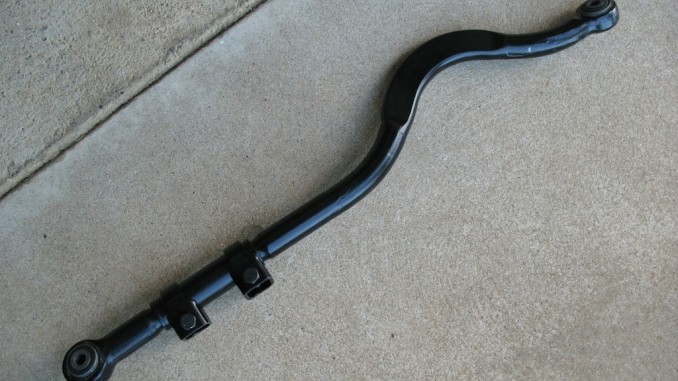 Even a mild lift on a JK will cause the axles to shift off center. The may cause handling issued and/or tire rubbing. Many aftermarket companies make adjustable track bars for the JK that allow the axle to be re-centered but many are lacking in the rigidity of the factory bar.



A track bar that bows will cause unpredictable handling and could be a safety concern.
The jeepfan.com Wrangler was experiencing the "Jeep death wobble" around 40 mph and something had to be done. This Jeep only has 3″ of lift and 35″ tires. Not extreme by any standards.
TeraFlex recently introduced their Monster Forged Track Bar for the Jeep Wrangler JK. This massive heavy duty forged front adjustable trackbar is designed as the ultimate in front end strength to eliminate any front end shimmy or handling issues – this Monster trackbar is 230% stronger than the factory trackbar. No bracketry changes are necessary, and it is a complete bolt on component. The trackbar is designed to cycle through the full movement of suspension travel without interfering with other components. Best suited for stock to 6+" lift systems.
Installation
Since we already had an aftermarket adjustable track bar that needed to be removed by removing the bolt on each end. After removal Install the new trackbar by attaching the frame mount first then the lower mount.
Rotate the adjuster to allow the lower bolt to line up. Torque both the upper and lower bolt to 125 ft/lbs and the adjuster bolts to 75 ft/lbs.
Drive the Jeep and check the axle center readjust if needed.
How's it working?
Even after a short drive the difference is noticeable. The Jeep steers more quickly and bumps do not upset the Jeep as they did before. The wobble hasn't returned after trying several times on a known (we all know where they are) wobble bump. In addition the bumps on the road are not felt in the steering nearly like they were before.
UPDATE 2016: We liked this product so much we added a front and rear to the jeepfan.com 2016 Rubicon Hard Rock as part of a budget boost install.