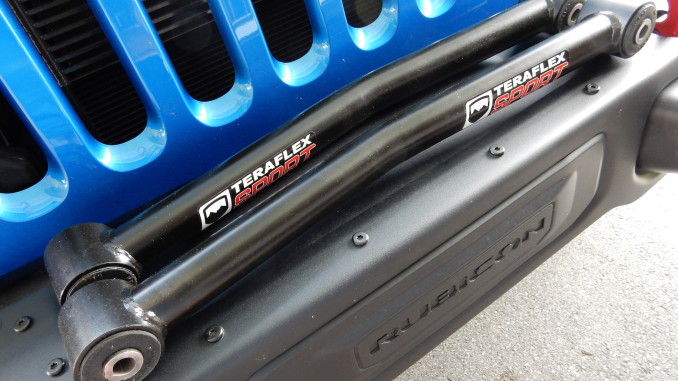 After the installation of the lift and tires on the jeepfan.com 2016 JKU RHR we experienced some wandering on the road.  It wasn't terrible but we wanted to return the Jeep to near original driving feel.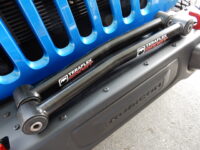 Often the wandering is due to the loss of caster from the increase of lift.  To put it simply increasing lift increases the angle of the upper and lower control arms.  This alteration of angle causes the front axle to tip a few degrees forward.  The caster angle keeps the wheels tracking straight down the road and when decreased the wheels will wander and cause the need for constant steering correction.
Teraflex makes a set of lower control arms that are much stronger and slightly longer than the stock ones, correcting the caster angle without the need for castor correcting cam bolts.  These arms are installable in a short amount of time with minimal tools.
Installation
It's not necessary to remove the wheels or totally jack up the Jeep.  Do not remove both arms at the same time, this may cause the axle to move out of position.
Supporting the frame with jack stands and the axle with a floor jack remove one factory lower arm and replace with the Teraflex arm.  You may need to rotate the axle slightly to match the hole in the longer arm.  Repeat on the other side.  Tighten to proper specifications.
After driving the Jeep check the bolts to ensure they are at proper spec.
The caster correct was perfect and the Jeep drives perfectly and wandering has been eliminated.  This simple addition makes a big difference in the street driving quality after a lift.
Teraflex makes upper arms to match these and additionally they make fully adjustable arms to allow further adjustment.  These arms fit all years of Jeep Wrangler JK and JK Unlimited.