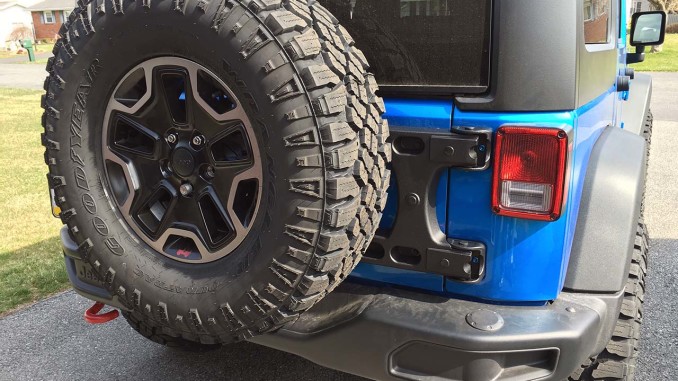 Continuing on from the HD Hinged Carrier installation part of our $3K JK we are now at the point of installing the Teraflex Adjustable Tire Mount. There are a few options here and depending on your installation you may need to proceed differently.
Both kits come with a few spacers that are used in different applications. In our case we needed just 2 on the driver side of the mount, be sure to use the provided rubber bushings too. Install the mount using the provided bolts and loosely install all of them. We decided to further enhance our installation by adding a Teraflex adjustable 3rd brake light mount so that was installed using the top 4 bolts.
With everything lined up tighten up all the bolts.
The adjustable tire mount allows adjustment in the in and out direction as well as the up and down direction. The manual gives recommendation of stud locations based in tire size. We went with the lowest lug holes even though the recommendation was the middle whole. We believe that this is possible due to the Rubicon Hard Rock bumper has a deeper cut in it than the stock plastic bumper. Keeping the tire low will increase rear visibility out of the mirror.
We found that the mount had to be placed at the furthest out position due to the stock wheel. Additionally we had to use 2 flat washers per stud to get the mount just right.
After we verified the fit everything was tightened up and we installed the upper part of the brake light mount after deciding on a proper location. Finally the stock brake light was plugged back in to the wiring harness and mounted to the upper mount. The kit comes with rubber plugs for the unused threaded holes in the hinge.
In all this install took about 3 hours at a casual pace. The hinge is very sturdy and the tire fits snug with no wobble.
We later added a Teraflex CB Antenna Mount which mounts direct to the hinge using the existing bolt holes.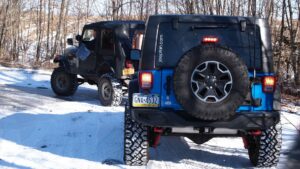 For more information contact…