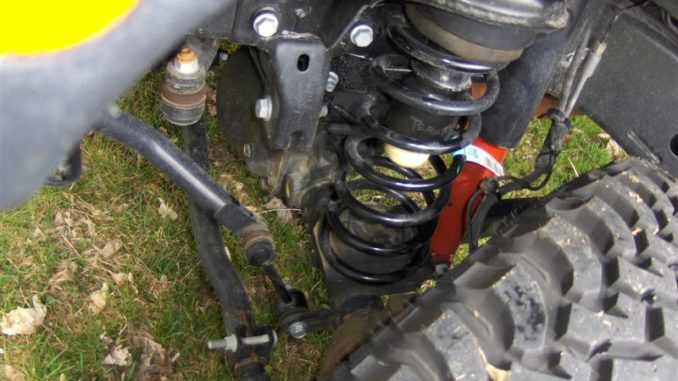 With the installation complete and all the parts checked take the Jeep for a test ride. Some before and after images.

| | |
| --- | --- |
| before | after |
| Front suspension extended | Upper shock extender |
| The completed project | On the rocks |
Review and Conclusion
This is a well made kit that was installed in approximately 3 hours with normal Jeeper's Garage tools. Installation was easy but the documentation lacked a couple of steps and tips, but then that's why we are here.
The Jeep's ride quality was maintained with no noticeable vibrations, wandering, etc. The new JK uses a different steering setup than the TJ so alignment and toe-in is not altered with this kind of lift. The steering wheel is slightly off and is easily adjusted by rotating the threaded collar on the drag link. The Jeep did gain the 2.5″ that the kit claimed. We believe this is an excellent lift for those on a budget and should take to trail use well. See the review on this kit in the Reviews and Products section. Send us a question for more information about the install or contact OK Auto for pricing and information.
UPDATE 2007:
After some driving time it seems that the Jeep has developed some unpleasant handling behavior, not real bad but we are looking for a comparable ride. Read this blog article "JK Handling Problems after the Lift" for more and see the solution – BDS Rear Track Bar Bracket.
For pricing and more information contact..