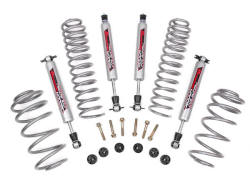 With progressive springs and Rough Country 2.2 Performance shocks
Offroading with a TJ is loads of fun, we all know that. A stock TJ is quite capable but a mild lift and larger tires allows more adventure and keeps the underside of the Jeep less abused.

When Kelly decided on lifting her 2005 Wrangler we decided on a Rough Country's 2.5″ TJ lift. The lift includes front and rear progressive coil springs, transfer case spacers to maintain factory driveshaft angles, and front and rear Performance 2.2 shocks.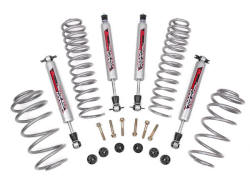 This suspension lift is designed to give a Jeep TJ optimal on and off-road performance with up to a 32 tire. It offers a balance for a daily driver that also desires great off-road performance. These ride quality and performance gains are delivered by Rough Country's new progressive rate coil springs combined with their Performance 2.2 shocks.
Installing a TJ lift kit is not a complex task or does it require an extended amount of time. In the following pages we outline the installation procedure and provide some before and after images and measurements.
The Before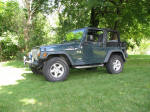 Kelly's Jeep was equipped with 31X10.5 BFG All Terrains.
The Jeep measured 22.5″ to the top of the front bumper and 17″ to the top of the rear bumper before the installation of the lift.
Disclaimer – While a TJ lift kit is not very difficult to install and doesn't require any special tools this project should only be performed by those familiar with working on their vehicles. Improper installation can result in loss of control of the vehicle. Follow the supplied directions and use this article as a supplement.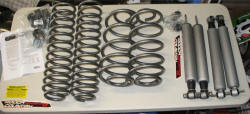 Front Installation
Support the Jeep properly on jack stands and allow the front axle to drop partially from the frame. Remove the shocks using a socket through the hole in the fender for the upper bolt. The passenger side airbox will need to be removed to access the upper shock bolt.
| | |
| --- | --- |
| jack stands and floor jack | |
| upper shock nut | removing the air box |