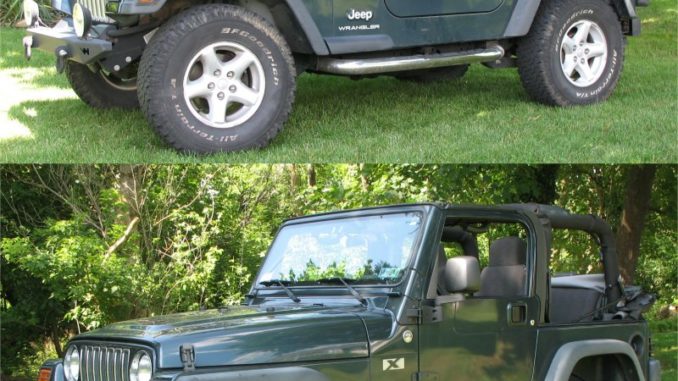 Skid Plate Spacer Installation
Nearing the end of the install the last step is to install the transmission skid plate spacers. Support the plate on a floor jack and remove the three bolts on one side.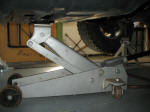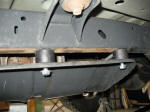 Lower the jack slightly to allow the skid plate to move away from the frame. Install the spacers and bolts loosely on one side. Repeat the procedure on the other side. Tighten all the bolts.
Post installation To-Do's
Check the transfer case shifter to see if it will move to 4L. If not, the linkage will need adjusting. Place the shifter in 4L, loosen adjustment bolt and push the linkage forward until it stops. Now re-tighten adjustment bolt. See image on the right. Check to be sure 4WD works properly.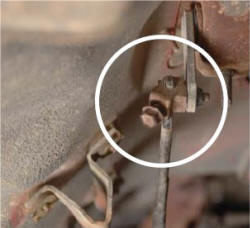 Rotate the driveshaft and check for interference at differential yoke and cardan joint. If necessary, lightly dress casting(s) and/or U-joint tabs in order to eliminate binding.
Have a qualified alignment center realign front end to factory
specifications.
The Finished Product
After taking the Jeep for a ride and double checking everything the results were excellent. The Rough Country Progressive springs and 2.2 Performance Shocks improved the Jeep's ride quality quite drastically. Kelly even commented that the Jeep feels less tippy in the corners.
Even with the 31″ tires the Jeep looks great. The increase in clearance is obvious. The image on the right shows the before and after. The entire installation took about 4-5 hours.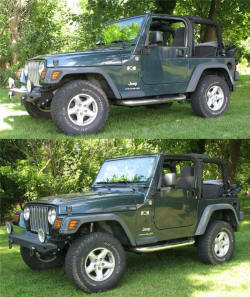 before and after
Measurements before and after. 2.5″ was gained in the front and 2.75″ was gained in the rear.
| | |
| --- | --- |
| Front | Rear |
| 22.5″ | 17″ |
| 25″ | 19.75″ |
Additional components to consider
The increased height will cause the axle to shift slightly to one side due to the track bar fixed length. On a TJ the rear driver side tire will get closer to the upper spring mount. With stock wheels it is possible for the tire to come in contact with the mount. Adding an adjustable rear track bar will allow the axle to be centered or adding a lower track bar mount raise bracket will center the axle.
| | |
| --- | --- |
| adjustable track bar | track bar bracket |
Post installation notes:
We did install a rear track bar bracket to re-center the rear axle and correct some ride issues.  This small item is quick and easy to install and makes a big difference.
A new set of BFG 31×10.50 All-Terrain Tires were added to finish the job.
for more information contact

Time to hit the trail for some testing…