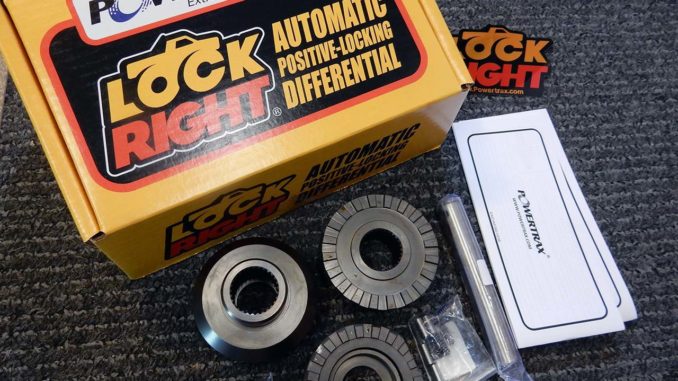 The jeepfan.com 1978 CJ-5 spent a few years in retired status and it was decided to bring it back to light-active duty. This meant some trail rides but nothing extreme, the goal is to prepare the Jeep for some light recreational off road use, preservation is kept in mind. Everyone knows CJ's aren't getting more plentiful and saving the species is gaining popularity.
When the Jeep was retired much of the serious off road equipment was removed; air lockers, on board air, winch, and other stuff made the list. Basically the Jeep returned to ice cream street duty (sorry).
So this past summer as a part of our upcoming book on building and modifying 72-86 CJs the Jeep was revived. After a new Old Man Emu lift, BFG Tires, and US Mags Wheels we moved to adding some extra traction. Since this Jeep is on light duty a Lock Right which we picked up from Quadratec seemed a good, inexpensive add.
PowerTrax Lock Right Locker with Performance Cross Shaft for 76-86 Jeep
The Lock Right is about the simplest locker that can be installed. It's comprised of a few basic parts which allow it to lock and unlock based upon load being applied. The driving behavior that results from the installation of one of these is less than perfect but off road performance is where they shine. Throttle and tire size over 33-35 can be dangerous to a Lock Right since it doesn't replace the differential carrier – they can take pretty much and long life is a matter of remembering that it's there.
Installation of a Lock Right can be done by most in their home garages with normal tools and can take about 2-3 hours. Most AMC 20 rear ends can be fitted with a Lock Right without removal of the carrier and pulling out one axle shaft.
Part 1 – Remove the old spiders
With the Jeep properly supported remove the differential cover bolts and pry open the cover to drain the gear oil.
With the wheels removed unbolt the driver side axle shaft retaining bolts. This may be different depending on the type of axles in the CJ. This one is equipped with one piece rear axles. Pull the axle about 2-3 inches out of the housing. Loosening the brake line to allow it to be pulled without being disconnected. Don't judge on the leaky axle seal.
Using a long punch drive the differential cross shaft retaining pin out of the housing to allow the shaft to be removed. It's not necessary to drive it all the way out.
Rotate the gears to allow the spider gears to be removed followed by removing the side gears. Keep track of the shims and bushings.