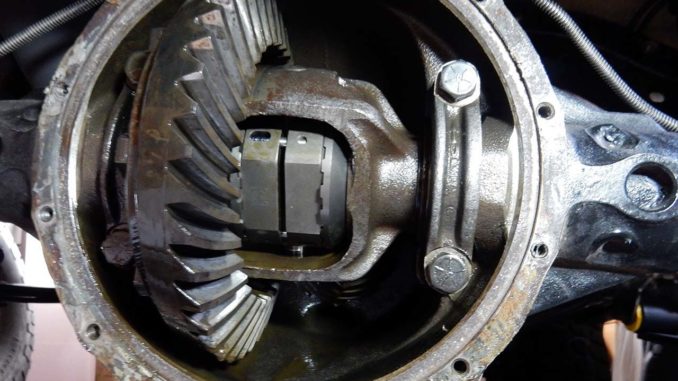 Continuing from Part 1, Part 2 – Installing the Lock Right
Inspect the Lock Right parts and start by installing the couplers with the original bushings. Insert the spacers inside the driver with the shoulder side toward the cross shaft. Place the pins within the driver and install the drivers into the carrier. Attempt to keep the drivers, pins, and spacers from falling out.
Slide the pin across to couple with the other driver. Install the springs through the openings and using a small screwdriver push them into place. The spring will seat securely in the opening. Carefully rotate the differential to install all the springs.
Align the locker and/or carrier to allow the cross shaft to be installed. Gently tap the roll pin back in place.
Take some time to clean up the housing to remove old oil or debris. Clean the old gasket off and prepare to seal it all up. Before installing the cover push the driver side axle back into place, make sure everything moves freely.
It's a good idea to mount the wheels and with the help of a friend test the locker's function. Use some gasket maker and install a new gasket. Place the cover on and bolt it up.
Fill the axle with oil and check for leaks. Take the Jeep for a test drive and note the locker's operation. A ratcheting noise when cornering is expected and strange behavior when driving, especially shifting gears on a short wheel base Jeep is normal and needs to be anticipated.
Took the opportunity to give the locker a work out at Rausch Creek Off Road Park and it performed flawlessly. It's been nearly 10 years since this Jeep was off road and the last time it was running air lockers. It was nice to not have to think about the locker and its constant presence made the going on the lose rocks smooth. For the price it's a deal, the casual off road use this locker will see will serve this Jeep for years to come.
PowerTrax Lock Right Locker with Performance Cross Shaft for 76-86 Jeep at Quadratec
This and other Jeep parts are available from Quadratec