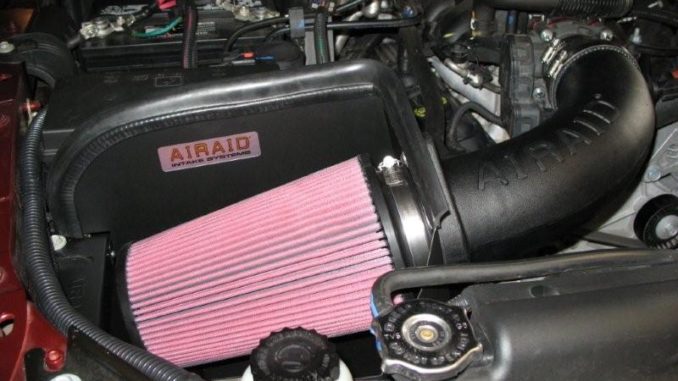 Installation Steps and Tips Continued
After removing the temp sensor continue by removing the four bolts in the throttle body and pull the throttle body out. Install the spacer then the gasket then using the supplied bolts reinstall the throttle body.
Next, remove the rest of the airbox including removing the rubber grommets below the box. Install the new rubber grommets into the hole and assemble the air deflector. Place the air deflector in place and loosely install all the fasteners. Carefully install the temp sensor into the air tube. Use a little petroleum jelly or silicone spray to ease insertion.
Install the air tube, reducer, and clamps. Attach the plug to the temp sensor and tighten all the fasteners. Install the air cleaner and double check your work. Connect the battery and test drive the Jeep.
Results
The expected results of the Airaid CAI were immediately noticeable. The throaty sound from the intake allowing more air to freely flow into the engine was present. The Jeep seemed to have a bit more torque at the lower rpm range. Christine's Jeep is an automatic which tends to hide performance improvements. The whistling sound caused by the spacer that is documented by so many others is there too. Only really noticeable at lower rpm and during partial acceleration.
Christine noted the mpg readout on the computer went above 18 mpg which was 2-3 mpg higher than before.
For more information or pricing visit