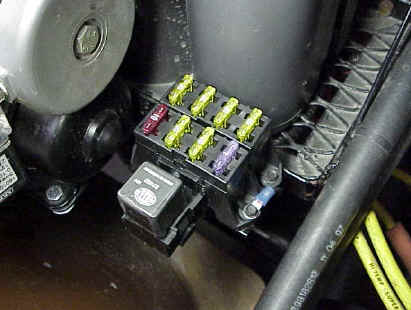 After looking at the jeepfan.com CJ-5's wiring for a while it became evident that there are several of those in-line style fuses scattered around the engine compartment. Some of them are practically impossible to get at without removing the passenger side fender.
This would make for a real hassle on the trail if access to one of these is needed. These fuses are for the fuel pump, fog lights, and air-locker compressor. In addition we recently added relays for my headlights to make them brighter, this wiring did not even have a fuse. After some research we found that Painless Wiring makes several varieties of fuse blocks, the one that figured would be best for the Jeep is the 7 circuit all-weather block.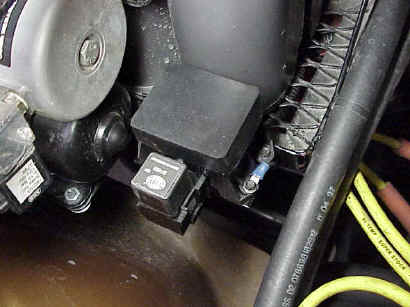 The block is pre-wired and has 3 20A constant hot and 4 20A ignition hot circuits. A relay controls the ignition hot side and a 30A breaker protects the whole deal.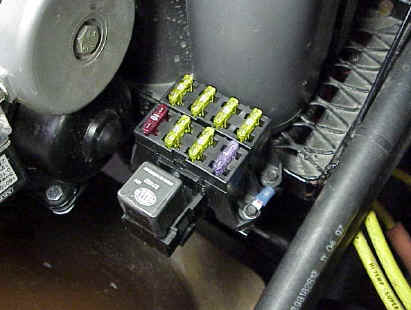 The best place on the Jeep to install the block was attached to the battery tray. The custom fabricated tray is a bit heavier and stronger than a stock tray. The block is located next to the ARB Air Compressor. Currently there are 4 circuits active in the block. The ARB lockers, headlight relays, fuel pump, and foglights. There is a circuit breaker protected hot wire that is directly from the battery to the block to provide full power.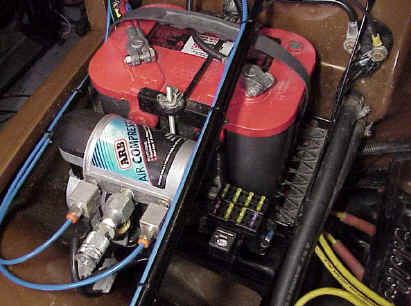 The wiring on the block was clearly marked and the instructions were very helpful. The block uses normal blade style fuses found almost anywhere. This is one of the small things that can be done on a Jeep that can make life easier when you are out in the middle of nowhere.