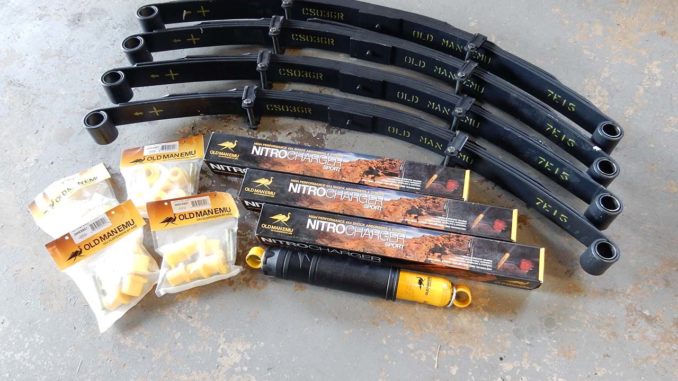 The AMC era CJ's used two style springs in the years leading up to 1986.  The 1972 to 1975 CJ's used 2 inch springs on both the front and rear and the 1976 to 1986 used 2 inch springs in the front and 2.5 inch springs in the rear.  The YJ Wrangler used longer 2.5″ springs on all four corners that used different spring rates to increase ride quality which also resulted in increased spring flexibility.
Swapping a set of YJ springs into a CJ isn't a particularly hard conversion.  Luckily AMC used the same spring mounts on the fixed end of the spring to allow installation of the 2.5 inch spring in the front with just the use of conversion front shackle mounts.  Mounts are available from a few makers, we used a set of Rock Equipment shackle mounts.
Conversion Components
Rock Equipment conversion front shackle mounts
YJ style shackles for the front and rear
Rock Equipment front conversion u-bolt spring plates with skids
Probably the most popular springs used in this kind of conversion is the Old Man Emu springs from ARB.  These springs are available in 2.5″ of lift and in two weight ratings.  The heavier rating springs are designed for Jeeps with a hard top.
Lift Components
Old Man Emu 2.5 inch lift springs – We used the same spring for all four corners – part # CS036R
Old Man Emu Nitrocharger Sport shocks
Old Man Emu bushing kit
Pulling Back a Moment
This CJ has run a BDS 3″ YJ set of springs for many years so the conversion to fit the YJ springs was already complete at the start of this project.  We will show the conversion components as the installation progresses.  You might ask why we'd move to a lower lift?  Frankly, the Jeep always seemed a little high with the 3″ lift and since this Jeep doesn't see much off road use any longer the 2.5″ seemed to make most sense from both an appearance and performance perspective.