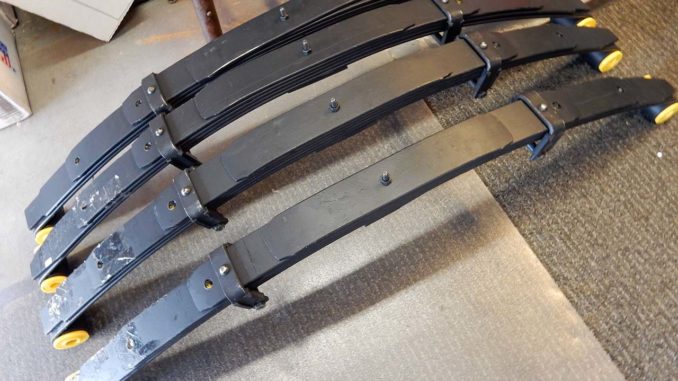 Installation of the Old Man Emu YJ Springs in a CJ is nearly the same as installing regular CJ springs.  Before tearing into the Jeep we took a little time to prep the springs by lubricating and installing the bushings and sleeves into the springs.  Take care of bushing installation since there are different bushings for the spring side of the shackle mount and the frame side of the mount.  The frame side mounts have a narrower lip on the bushing.
With the springs prepped it was time to move on to getting the old suspension out.  Support the Jeep properly and allow the axle to hang free on the springs.
Support the axle slightly and begin removing the shocks, sway bar links, and u-bolt plates.
With the above components removed support the axle so it does not lower when the springs are removed.
Begin by removing the shackle bolts and allow the springs to lower from the Jeep.  Remove the upper bolts to remove the shackle and remove the fixed mount bolt to allow the spring to be removed.
With the springs removed installation of the front conversion shackle mount would be next.  Since our CJ already had them we proceeded to install the new bushings and sleeves.  Using a C clamp can aid in the installation of the bushing and sleeve.