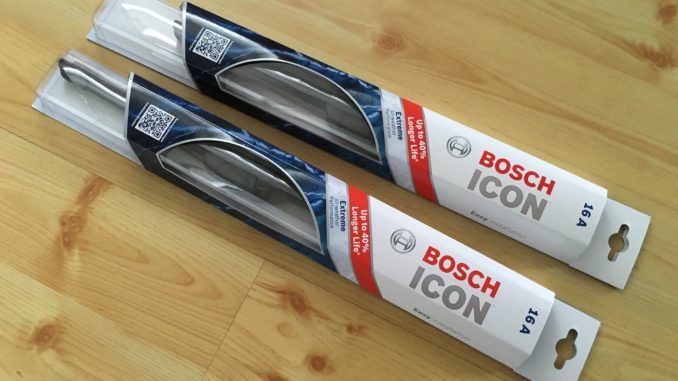 If you live in an area that experiences the force of winter it may be time for a new set of wiper blades to keep the window clear when the messy stuff arrives. Snow is bad enough but dirty slush and ice coat a Jeep's windshield in no time and even the JK has less than perfect defrosters.
We installed a set of Bosch Icon wipers that feature bracketless design and tension springs help keep the blade flexible and provide superior wiping performance in all weather conditions. The JK uses a 15″ wiper blade but a 16″ size will work just as well and will provide a slightly larger wipe area.
Installation on a JK is a job that only takes a few minutes. Pull the wiper arm back and by rotating the factory blade it will allow it to pop out of the retaining hook.
After removing the blade install the new blade into the retaining hook and press down on the protective cover. Repeat the process on the other side.
Simple install!
Review
After a winter with these new wipers their performance over the factory wipers is quite considerable. The factory wipers seemed to freeze regularly causing the need to stop and tap the blades on the glass to break off the ice. Since these blades have no openings freezing doesn't happen, annoying problem solved. Funny how an inexpensive product can make such a difference.
Models:
Bosch Icon 15A or 16A