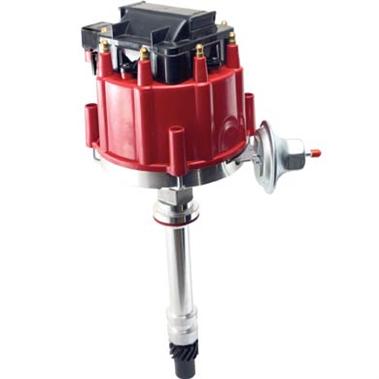 A few years back we covered a frame up restoration of Rich's CJ-7. The engine in this Jeep was partially rebuilt during the initial restoration but the engine is in need of a major overhaul. New Problem: Distributor Gear and Cam Gear Worn
The shredded camshaft distributor gear
Only after an combined hour or two of initial startup the engine refused to start. In troubleshooting the distributor cap was removed and it was noted that the rotor could be turned by hand – first bad sign.
To step back a bit AMC engines have had a record of eating distributor/camshaft gears. Evidently there have been different gear diameters and varying hardness levels in gears. In research about the internet it seems that many of the imported HEI conversion distributors hold an extremely high reputation of gear problems. Rich had a similar problem with the engine that was in this Jeep before the new one.
Back to this Jeep's problem. The distributor was removed and the gear on the distributor was worn but the cam gear was toast.
| | | |
| --- | --- | --- |
| worn gear | worn cam gear | cam gear |
It's heart breaking when a new engine needs to endure this. Small metal shavings running through the oil pan and potentially entering the oiling system. In addition to the possible contamination it also means disassembling the front of the engine to expose the cam gear for replacement. A small plus here is that the AMC gear is replaceable unlike a Chevy V8 where the gear is a part of the cam.
A new cam gear was ordered along with a new gear for the distributor.
Ditch the import go with something better…Davis Unified Ignition aka DUI
| | | |
| --- | --- | --- |
| beware of cheap imports | DUI distributor | |
Information provided by Performance Distributors
Performance Distributors now offers the D.U.I. (Davis Unified Ignition) for AMC engines. The AMC D.U.I. is a one-piece ignition system with the coil in the distributor cap and the module inside the distributor. The D.U.I. Coil produces 50,000 volts and allows spark plug gaps to be opened up to .050″ – .055″. The Performance Distributors Dyna-Module has more electronic dwell time in it to give the coil more saturation time and produce a hotter spark. The D.U.I. distributor eliminates the ballast resistor that is used on the stock AMC ignition system. This will allow full alternator voltage through the ignition system and will provide a stronger
spark and more power.

Each D.U.I. Distributor is tuned on a distributor machine based on the specs of the engine. A super smooth advance curve will eliminate engine damaging detonation and give instant throttle response. The unit is polished and lubed as it is assembled making it a true blueprinted distributor.

The AMC D.U.I. is a real work of craftsmanship and although it is uniquely designed, replacement parts are easy to find. High Energy Ignition (H.E.I.) replacement parts will fit right on the D.U.I. These parts can be found at any local auto parts store.
The new DUI unit was installed and the engine was re-tuned. After several shake-down and tuning runs the distributor was pulled and both gears were inspected for wear. All is well so far.