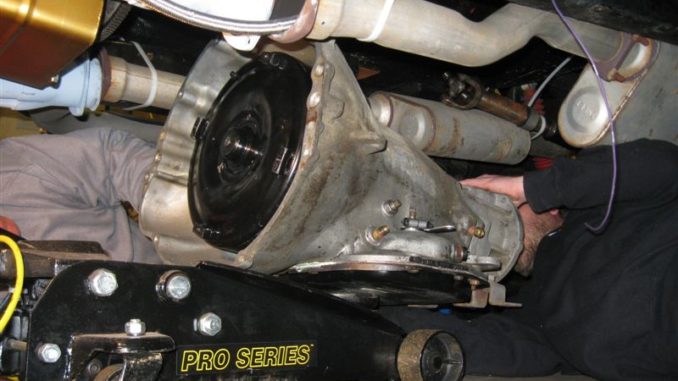 Issues right off the bat…what else will not fit?

The new engine was placed in it's new home, next the transmission and transfer case were installed. Since this Jeep never had an automatic some issues became apparent right away. The in-frame Hedman headers will not fit due to contact with the transmission oil pan. The solution to this was a set of Edelbrock manifold headers.
| | | |
| --- | --- | --- |
| | | driver side clearance issues |
| | Edelbrock Manifold Headers | |
The Edelbrock headers were top quality and featured a 3/8″ thick head flange that's sure to keep a good seal and prevent exhaust leaks. Of course in this situation the new headers meant a visit to the exhaust shop for some modifications.
| | | |
| --- | --- | --- |
| front driveshaft | | transmission mount |
The rear and front driveshaft fit. The 727 is only about 1″ longer than the T-4. We will keep an eye on the rear and make sure the shaft doesn't bottom out on the bumps. Only minor modifications needed to be made to the skid plate to fit the new transmission mount.

The transmission floor access panel was modified to patch up the hole that was for the 4 speed shifter and a new B&M Megashifter was installed on the hump in the center of the Jeep's interior. The shifter's cabling was fitted, one thing noticed was that the cable length was a bit excessive and the loops cause shifting to be stiff and difficult. A shorter cable should do the trick.
Transmission kick-down linkage
The 727 requires a kick-down linkage in order for the transmission to operate properly.
The first start up and break-in
All the rest of the wiring, hoses, and misc were hooked up and checked. The engine was filled with oil along with the transmission – see side note about engine oil. The engine came to life after a few issues were addressed. One big one was a blown fuse in the distributor circuit. The engine was started and allowed to run at a consistent speed for 20 minutes to ensure proper camshaft break-in. After a while the engine reached operating temperature and some fine tuning to set timing and idle speed were set. The engine sounded good – perhaps too good since it was running on open headers. The engine was shut down and the Jeep paid a visit to a local exhaust shop where the new headers were mated to the rest of the exhaust system.