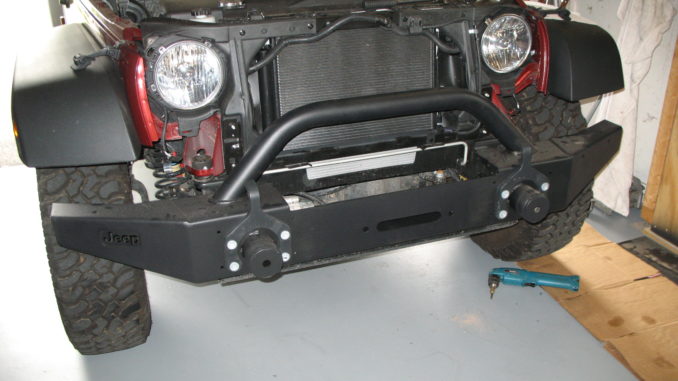 Harry included a set of Mopar JK Rock Bumpers when he ordered his 2008 JK Wrangler Unlimited. After a few months of taking up basement space we decided to install them.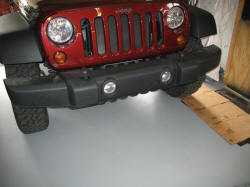 Surprisingly the Mopar bumpers are relatively easy to install and will only take about 1.5 hours. The bumpers are an excellent addition to a JK and add function and protection to both ends.
The front bumper included the integrated winch mount and uses the factory tow hooks and plastic air dam.
Front Installation
We followed the directions which were pretty well written. One thing to look out for is keeping track of the two variations in front bumpers – one with winch mount and the other without.
TIP
Removing the plastic push-in screws.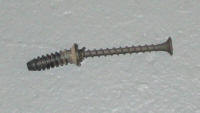 Use a 1.5-2″ drywall screw. Drive it into the plastic screw about 1/4″. Gently pull out the screw.
Remove the grill by popping out the plastic push in screws/rivets. SEE the tip on Removing the Plastic Screws. You will also need to unplug the turn signal lights. TIP: Slide the red plug latch out then unplug the light. Remove the front plastic piece that is directly below the grill.
Remove the air dam and the bumper. Retain the nuts and washer plates. Be careful when removing the bumper as to not damage the wiring for the fog lights (if equipped). It's helpful to have someone hold the bumper slightly away while the lights are unplugged and the wiring clips are removed. Tie the wires out of the way.
At this point the new bumper is ready to be placed onto the front of the frame. Also, is you were installing a winch place the winch in the mount but do not tighten it. It will need to be slid side to side to allow access to the nuts and bolts. Using the original bolt plates or tow hook plates place them on the front of the bumper through the frame. Reuse the washer plates and install the nuts but do not tighten.
Center the bumper on the frame and install the inner bolts using the handle nuts and washers. (shown on the right) Install the crush can covers. (shown on the right) Tighten all the bolts.
Reinstall the grill making sure you connect the turn signal lights. Install the fog lights and attach to the existing Jeep wiring using the included wire adapters.
Finish up the installation by tying the wiring up and reinstalling the factory air dam. It may be necessary to trim the air dam when installing the winch.