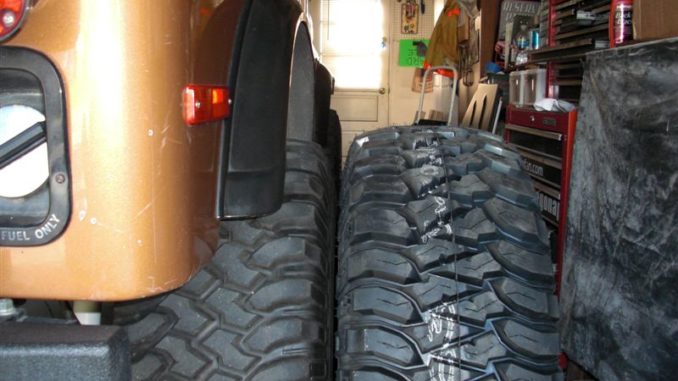 The jeepfan.com CJ-5 has been running the same set of 33×12.5 BFGoodrich Mud Terrain tires for 11 years. The tires served the Jeep well but it was time for a fresh look.
In addition to the tires a used set of chrome Outlaw II wheels were also looking a little dated.
We picked up a set of Mickey Thompson Baja MTZ mud tires and a set of Mickey Thompson Classic II aluminum wheels from Rough Country.

The tires arrived via UPS nicely wrapped already mounted and balanced. Due to a small communication error the tires needed to be remounted and rebalanced to change the white letters to "out". Make sure you specify that since most often white letters are mounted "in".
SPECIAL NOTE: This is important to Jeep CJ's 77-80. These year CJ's use a larger rotor and caliper assembly. If the wheels are balanced inside the rim the weights need to be kept 2″ in from the inner edge of the wheel or they may hit the caliper.
Size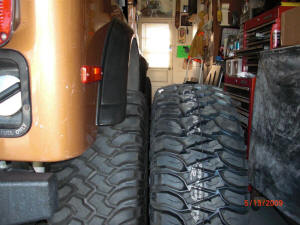 33 vs 33
We toyed around with the thought of moving to 35″ tires but decided that the little CJ-5 looked better with the 33″ and didn't look as stuffed in the wheel wells. We tested a set of 35″ Baja Claws – check it out. The below left picture shows the 35″ on the rear and the right picture shows it on the front.
The 33″ MT tires were a bit taller than the BFG tires. A picture on the right shows the difference.
After the tires were mounted and installed the Jeep went for a ride. The tires were surprisingly quiet for a mud type tire and rode very smooth. Handling was what you would expect from a 30+ year old CJ. The look of the tires is very fitting of the Jeep and a welcome improvement.
We look forward to wheeling these tires a little to see how they work. Check back.