In 2013 Jeep released a special model Rubicon to celebrate the 10th anniversary of the model. This model had extra features including steel front and rear bumpers, a first for the JK.
If you own a JK Wrangler that is a 10th Anniversary (2013), Rubicon X (2014), or Rubicon Hard Rock (2015-2017) running the stock steel 10A bumper and would like to spruce it up Maximus-3 makes some beautiful additions that retain the factory look and style while adding function.
We decided on the X hoop, winch mount, fog light brackets, and synthetic line hook anchor. These components along with a Warn VR10-S winch and some 6″ off road lights will set off the front of the jeepfan.com 2016 JK RHR.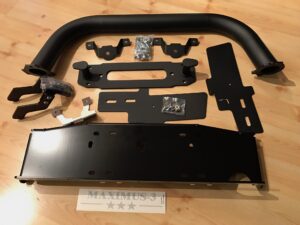 Part Numbers:
0400-007XHO – X Style Hoop
0400-011P-CV – Centered Winch Mount
0400-020ALB – Light Brackets
0400-024WHA – Winch Hoop Anchor (Synthetic Line Only)
0400-015FTP-S – Standard Filler Plates
Note: This setup will also fit JK Wranglers equipped with the 10A style bumper like the 75th Anniversary Edition
Installation
Installation takes about 4 hours and requires a minimal amount of cutting of the area where the fairlead mounts.
You should follow the instructions provided by Maximus-3, they are very complete. We will add tips along the way.
It's easiest to remove the inner bumper bolts with the top filler plate removed. Use a torx wrench to remove the bolts and plate. Following the filler plate remove the lower skid plate and finally the inner bumper nuts. The bumper should pull free of the Jeep.