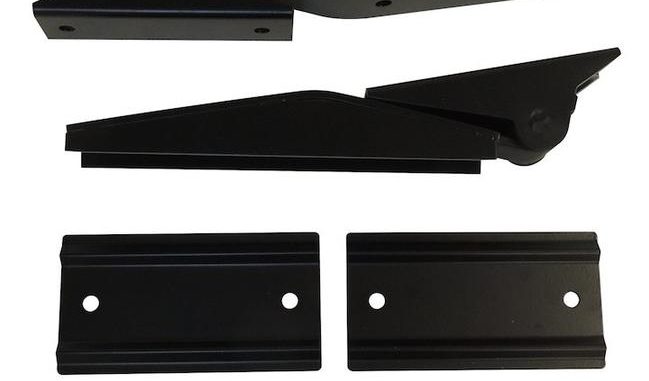 Have a set of hinges on your TJ that are rusted and plain worn out? Having to help the tailgate close due to poor alignment from worn hinges can cause damage to the latching mechanism and potentially the tailgate itself. The slamming stresses the tire mount as well as the latch. You can take the time to pull the hinges, clean them up and apply a fresh coat of paint but that wont fix the worn out pivot.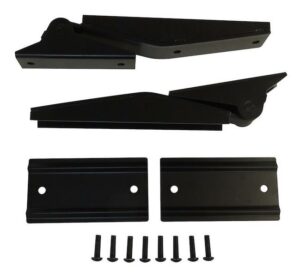 Crown Automotive makes a replacement set of hinges that look good and won't break the bank. They come in a black powder coated stainless steel that can be painted or left as is.
In the case of our TJ project we decided to leave them the powder coated black which will help them blend in with the Poison Spyder rear corner guards to be installed.
Usually installation is rather straight forward and can be done in a short amount of time. But as in many older Jeeps stuff rusts and a broken bolt will eat up a lot of time. It's best to go gently with the factory bolts, loosen them slowly and work them back and forth if needed to avoid breaks. These bolts are not accessible from the back side so a break will require some drilling and extraction.
Removal
The spare tire should be removed. Wedging a block of wood under the hinge side will keep the tailgate aligned while the new hinges are installed.
Luckily we managed to remove all of the bolts. We took the time to clean up the area with some Simple Green and a scrub brush. If you feel inclined applying some paint to the unpainted area will slow rust.
Since the Poison Spyder corner guards were installed we added some extra paint to make the guard and hinges blend together. To complete installation we needed to do a little adjustment to the tail gate alignment to account for the weight of the tire.
These Crown Automotive replacement hinges are available from Quadratec.