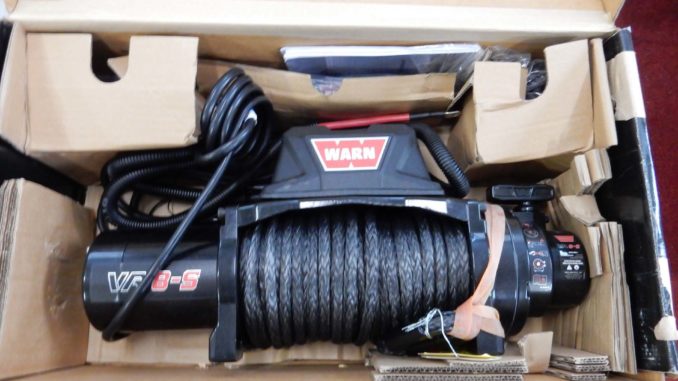 Soon after we installed a Warn VR10-S winch on the jeepfan.com 1978 CJ we installed some bumper modifications to the jeepfan.com 2016 Rubicon Hard Rock that included the installation of a winch. In reviewing the options the VR10-S seemed like a perfect fit for the JK and thinking further the VR10-S seemed a bit excessive on the small and light CJ-5.
So we "stole" the VR10-S off the CJ and mounted it up on the 2016 JK RHR, but on doing so we were left with an issue of an empty winch mount.
Enter the Warn VR8-S, a lighter weight cousin in the new VR series. The synthetic rope version is nearly 20 lbs lighter than the steel rope version 53lbs vs 71lbs.
A quick order from Quadratec and a VR8-S was at our doorstep and ready for the Jeep.
Installation
If needed, refer back to the original VR10-S install for mounting the winch plate.
Wiring
Wiring a CJ is rather simple, the grill openings make getting the wires in and back to the battery a snap. We found it easier to remove the passenger side headlight to get the wires through neatly.
With that the CJ now has its own winch at the ready. The new VR series from Warn has that classic but modern look with a value price. For the weekend Jeeper this series winch should serve the Jeep well.