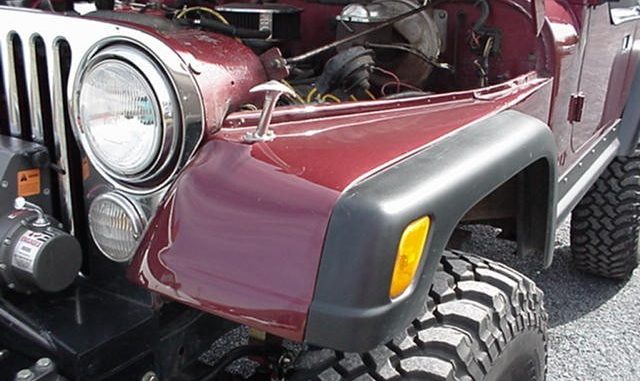 Installing TJ Flares on a CJ – The right way and ALL the way.

Mike wanted a different look. He always liked the CJ's original look but the larger tires and wide trak axles made everything just kinda stick out too far. A lot of Jeepers install TJ flares for a little more tire coverage and an increase in fender clearance. TJ flares allow for trimming of the CJ wheel opening to increase tire clearance.
The original look below.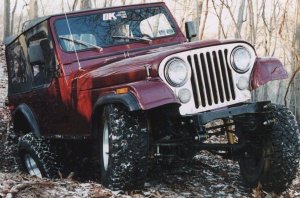 The rear installation is pretty easy and requires some time trimming and fitting. The front is a different story…TJ Flares are rather square and CJ fenders are round. Many hack jobs are done by just cutting away and getting something to fit. This Jeep has class and it would not be fitting to treat it to such torture.
Initial thoughts were to create a customized set of fiberglass fenders but it was decided to modify the steel ones. The fenders needed to be extended forward slightly and the inner rear well needed to be extended rearward.
After hours of working the metal, some body filler and fittings the fenders were ready for paint. The final product attracts a lot of attention. These fenders look like they came that way. If only someone made aftermarket fenders ready for the TJ flare. (HINT HINT)
The finished product – click the images for a larger image