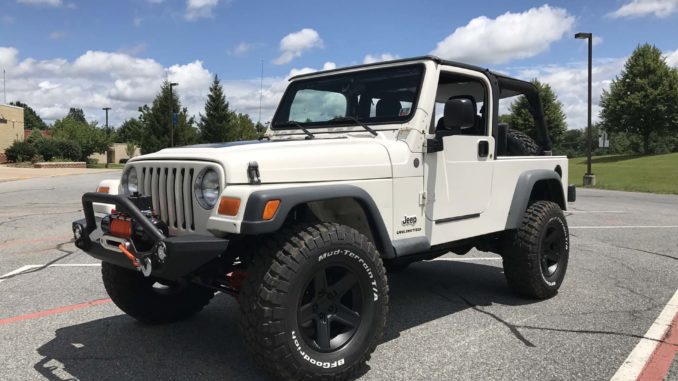 Continuing from Page 2 of Installing a TJ Teraflex 3 Inch Lift in the jeepfan.com 2004 Wrangler TJ Unlimited we are at the point if installing the new Teraflex springs. These 3″ lift springs are matched to the TJ to give proper lift and good ride.
Rear Springs
Rear spring installation is simple, position the spring in the upper mount and slide the lower part onto the mount. A prybar may be needed to persuade the spring into place.
Front bump stop extension and front springs
Before installing the front springs it is necessary to drill and tap the bolt hole for the front bump stop extension. Teraflex does provide self tapping bolts for easier installation. It's best to drill the hole and thread the bolt in before placing the bump stop block. The block is best placed inside the spring but not bolted in place during spring installation. Once the spring is seated the bolt can be installed and the bump stop extension can be tightened.
At this point the front and rear springs should be installed and the weight of the Jeep should be sitting on the axles. This will compress the springs to ride height and allow installation of the rest of the components. Typically from here the sequence is…
Shocks
Track bar
Sway bar
Breather tubes, brake line brackets, and other small items
Shocks
Shock installation is rather simple, the biggest challenge is getting the shock to stay put long enough to install the bolt. The shocks are charged, this will cause them to want to fully extend on their own. Using a ratchet strap to squeeze together the shock will save extra muscle work.
Closing stages
At this point there is a few things that need to be installed. Each has been broken out into an article on it's own. Follow the links below.
Teraflex transfer case Slip Yoke Eliminator installation – coming soon
After all the items are installed and tightened up the Jeep should be driven a bit and the components double checked. It's best to get a full alignment to get everything rolling properly and to ensure the Jeep drives correct.
This lift is nicely balanced for a TJ. The 33″ tires fit completely with no rubbing. The BFGoodrich Mud Terrain KM2 285/75R16 on Quadratec Rubicon Xtreme 16″ wheels look great within the wheel wells. The Jeep's ride is firm and responsive without being harsh. The Jeep is not too high to feel tippy in the corners.
Test flexing, there is no evidence that the tires will come in contact with the fenders.
Teraflex 3″ Premium Lift Kit from Quadratec
Project page – jeepfan.com 2004 Wrangler TJ Unlimited