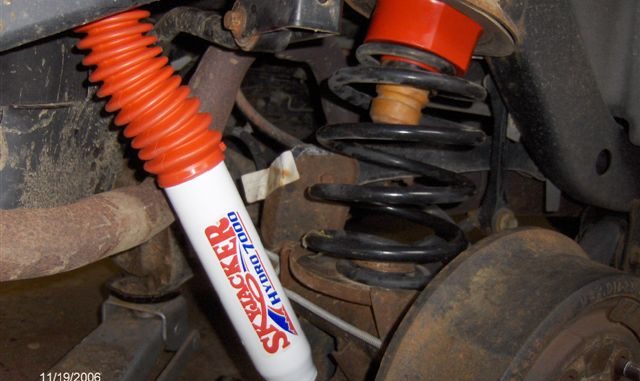 The Rear
The rear is similar to the front. Secure the Jeep on stands and remove the wheels. Remove the shocks and disconnect the upper track bar mount. We did not need to disconnect the rear sway bar since the bars mounts allow for greater movement.
After the shocks are removed and the track bar disconnected lower the axle to allow the springs to be removed. Remove the coil springs and work the bump stops out of their cups. Remove the bump stop cups and install the coil spacer on the cup, place a bump stop spacer on top of the cup and using the new bolt an washer reinstall the cup.



pry out the spring




bump stop removal




bump stop cup


coil spacer and bump
stop installed

rear spring installation

some prying involved

rear spring installed

track bar mount

finished installation
After the bump stop and spacer are reinstalled reinstall the coil spring. We had to wrestle with these, they are a tight fit and will require use of a good pry bar. If you had access to a spring compressor it may come in handy. After the coils are installed jack up the axle to allow reconnection of the sway bar. Install the shocks, check all the bolts and reinstall the tires.
The Jeep is about 2 inches higher than it was before. The ride has improved due to the new shocks. Off to OK Auto for some new rubber.
New tires too and the finish.
We had OK Auto mount a set of BFGoodrich 32X11.50 All-Terrains on the Jeep Canyon wheels to finish off this project. The new tires make the Jeep's appearance better balanced and picks the Jeep up off the ground a little further. There is slight tire rub on the front sway bar at full turn.
before and after
TIP: When using stock Jeep wheels make sure there is enough clearance on the rear by checking the space between the tire and the coil spring bucket on the frame. There should be about a half an inch or more. The Canyon wheels are usually sufficient but the factory steel wheels may be a problem.
new tires
For more information and pricing visit OK Auto