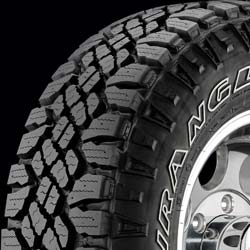 So after weeks of thinking of what the first set of aftermarket tires that will go on the new 2012 Jeep we decided on Goodyear Wrangler Duratrac.  Why?  We decided to take a different approach with the new Jeep and keep it like most Jeepers do.  A daily driver that sees weekend trail use, not of the extreme kind, but rather fun weekend getaways that even the family will enjoy.  See What Tires for the jeepfan.com 2012 Rubicon to see where we started.
UPDATE at the end..
The Duratrac is relatively new to the market and is an interesting in-between tire.  It features mud type tire characteristics as well as all-terrain tire ones.  Large lugs for digging into mud and grabbing on to rocks are present as well as a lot of siping to allow fine grip in the rain and snow.  The lugs are closer than most mud tires to keep the noise down and there is a lot of overlap in the lugs to help with traction on the street.
Size, what size already?!
We stewed on the size to get for the new Jeep.  In the end we decided on the 285/70R17 size and heres how we did it.
Facts:  The Jeep..
is a daily driver
needs to perform well in the rain, snow, and ice
is a weekend trail machine that does not see extreme use
has 2″ TeraFlex leveling kit which is only good for a 33-34″ tire
doesn't want wheel spacers or lower gears
will keep the factory Moab wheels
will use D or C rated tire
What fits the above conditions?
There are several varieties of 33-34″ tires available for Jeeps running 17″ wheels.  Unfortunately tires made to fit 17″ wheels often come with an E rating or 10 ply.  These tires are designed for heavy vehicles like full size SUV's and trucks which brings heavy tire weights due to the extra plys and strong sidewalls.  Often these tires need to be run at lower air pressures on lighter vehicles to allow a softer ride.  This can cause uneven wear and tire pressure warnings from the Jeep's TPMS system.  The heavy weight of the E rated tires kill gas mileage, engine performance, and stopping distance.
Tread widths can play a big part in what fits a Wrangler JK.  There is 5.5″ of backspacing on a JK and if you are going to run stock wheels an 11.5″ width is about the maximum tire size that will not rub on the suspension without wheel spacers.  Many tires come in the 33×12.50 size but the 12.50 width will cause rubbing.  Several tire makers have a 295/70R17 size which is a good in-between 33 and 34″ size but almost all of them are E rated.  Note: we ran this size on the jeepfan.com 2007 Wrangler.  They were good tires and fit well but were heavy.  See: Toyo Open Country M/T.  The 285/70R17 size was perfect for this Jeep.  It's slightly larger than a 33 but not as wide as a 33×12.50.
Many makes and models exist in this size.  Some E rated but most were D rated.  As for snow and ice, the Duratrac is one of the few tires of this type that carry a snow rating.  From what we have heard from others these tires perform better than any of this type in winter conditions.  The Duratrac even has stud provisions.
So the specs are as follows.
Size – 285/70R17
Height – 33″, Width – 11.5, Rim 7.5-9
Weight – 53 lbs
The factory Rubicon BFG Mud Terrain tire weighs in approx 50 lbs and the Moab wheel is approx 25 lbs.   This new combination will only add about 3 lbs of unsprung weight to each wheel.  The ~33″ size will allow the Jeep to still perform well with the factory gearing and not drastically affect gas mileage.
The install
We ordered the tires from OK Auto and paid them a visit to get the tires mounted, balanced, and put on the Jeep.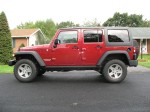 Above is the Jeep fresh off the Teraflex Leveling Kit installation still sitting on the factory BFG Mud Terrain tires.