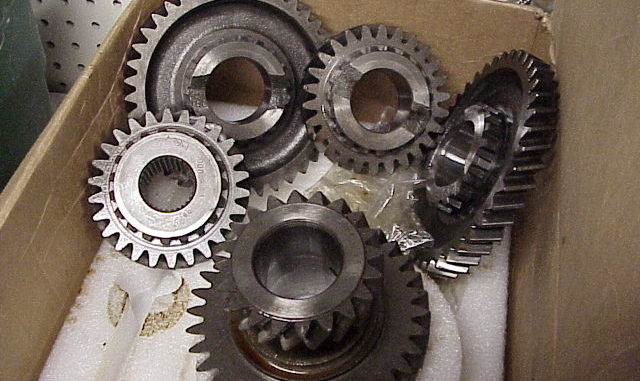 We started out by disassembling the second Dana 300. The fact that neither of us ever did this slowed us down a little. We found that following the manual was useful. A press would have been helpful and so would a good gear puller set but we managed. It is almost impossible to remove the bearings without damaging them, so it is advisable to invest in a transfer case rebuild kit (a) this kit includes all the bearings, seals, and gaskets you will need.
| | | | |
| --- | --- | --- | --- |
| (a) | (b) | (c) | (d) |
| (e) | (f) | (g) | (h) |
I got to work with the grinder, a notch needs to be formed in the corner of the bottom of the transfer case. (b) The only purpose for this is for clearance when installing the intermediate gear. You should not need to grind into the area where the gasket sits. The grinding took about 15 minutes and after a good washing to remove all the metal dust we were ready to start reassembly. (c & d)
Stage 3 – Reassembly
I followed the manual for the steps to reassemble the case. It is evident that it is important to read carefully because the case fits together sequentially. The front output shaft assembly is installed first (e & f), then the rear, finally the intermediate gear (g). With all the gears reinstalled a gasket was added then the bottom cover was reinstalled. The case was now ready for installation. (h) is a shot of the old gears.
Stage 4 – Twin Sticks, Case removal, and installation.
Glenn decided to add a set of twin sticks (a) to his new Dana 300. This shifter by Currie allows a lot of freedom of gear selection to the driver. The shifters allow combinations not possible with the stock Jeep shifter. It allows for 2Low, Front WD Low, 4Lo, 4Hi, 2Hi not to mention more levers in the driver compartment to add to the neat-o factor. The shifter allows for lots of adjustment for perfect positioning.
The next step was to remove the old case from Glenn's Jeep. The oil was drained, the drive shafts and 4wd shifter were disconnected, and also removed the speedo cable. Soon after the case was out on the floor. (b)
The new case was positioned under the Jeep and we hoisted it up and bolted it in. (c) Glenn looks happy under there doesn't he? (d) We hooked up the drive shafts, speedo cable, installed oil, and adjusted the twin sticks.
Stage 5 – The test
After double checking the installation Glenn fired up the Jeep and took it for a ride. All seemed OK and it was pretty obvious that low range was lower than before. The true test will be some off-roading.
UPDATE: Fast forward 10ish years and the TeraLow is still serving this CJ flawlessly. The low range gearing is near perfect for this CJ.