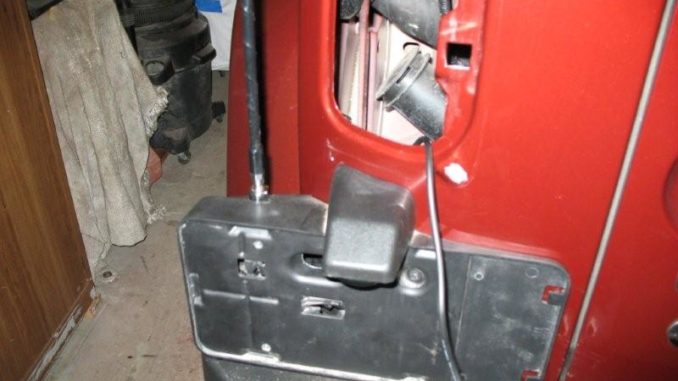 A clever CB antenna mount that hides in the JK license plate mount.


In an effort to keep a JK classy and clean looking there are certain things that should not be overlooked. The CB is an important piece of equipment on the trail and a quality antenna securely mounted to the Jeep is a necessity. Magnetic mounts are darn near impossible to use on a Jeep and are clumsy and impractical. Drilling into the body of a new JK for and antenna is hard to bring yourself to do and just seems wrong.
CoolTech makes a clever CB antenna mount that hides within the factory JK license plate mount and only requires some simple trimming to the plastic.
The kit comes complete with the mount, Firestik Firefly 4′ antenna, and cable.
Installation
Since the CoolTech mount comes with detailed directions we are going to highlight some of the installation steps.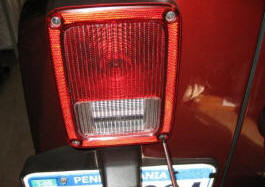 Remove the 2 inner screws that hold the tail light on, remove the tail light. (pictured right) Remove the license plate and mount. NOTE: The two bottom screws will be easiest to reach if you remove the nuts that hold on the rear plastic bumper cover and pull down on the bumper to remove the bolts.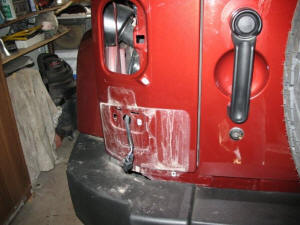 With the mount removed test fit the CoolTech mount bracket into the plastic mount. (pictured right)
Trim the outer part of the plastic mount as stated in the directions to allow clearance.
After proper clearance is achieved drill a hole directly above the antenna mount for the antenna. Trim the hole to achieve a proper fit. Install the antenna mount and plastic mount to the Jeep. (pictured right)
Run the antenna wire through the hole that the existing wiring harness uses. Route the antenna wire up into the body going through the boot.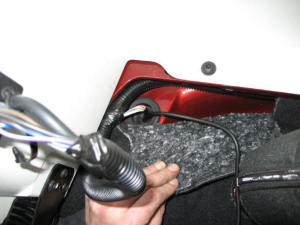 Install the outer part of the plastic mount and reinstall the tail light. (pictured right) Route the wiring to the CB and install the antenna. Reinstall the tail light and license plate.
Tune the CB antenna for optimum performance using a SWR meter.
That's it. You may choose to complete your installation by using a quick disconnect to ease removal of the antenna and a spring to allow the antenna to bend while running the trails.