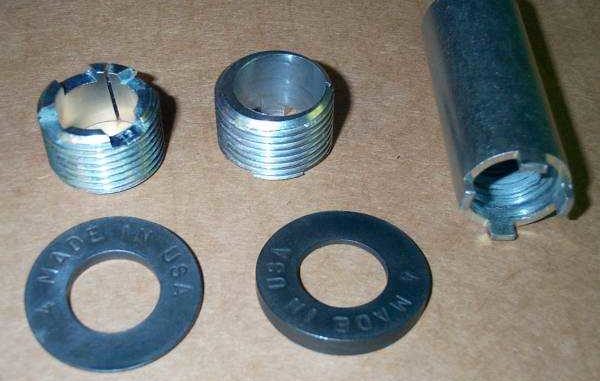 Installing Castor/Camber Adjusting Upper Ball Joint Sleeves or "Camber Correctors". Castor/Camber correcting upper ball joint sleeves are installed in place of the original sleeves. The sleeves are tapered, threaded inserts that install in the top of the steering knuckle above the u-joint. These sleeves are used to maintain proper tension on the knuckle ball joints.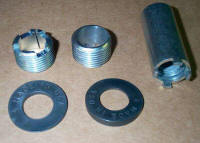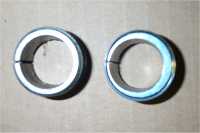 Installation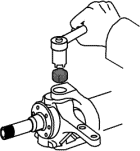 With the Jeep supported securely by jack stands remove the front wheels. Turn the steering to allow you to easilty access the rear of the u-joint area. Loosen the lower ball joint nut to leave about 1/4″ of thread exposed. This will keep the entire assembly from coming apart. NOTE: You may not be able to loosen the bottom ball joint nut without removing the axles. If this is the case you will need to disassemble the entire knuckle assembly and remove the axles.
Special tools that will help
| | |
| --- | --- |
| Ball joint spanner socket – These are available from many auto parts stores. | Ball joint puller – Also called a pitman arm puller |
Remove the cotter pin and remove the upper ball joint nut.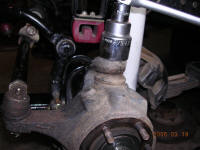 Apply a plentiful helping of PB Blaster to help loosen the ball joint and threads. Using a ball joint puller installed over the ball joint shaft as tight as you can get it give the puller's threaded shaft a few good whacks with a heavy hammer. This should set the ball joint free of the sleeve. Don't try to loosen the sleeve using a spanner socket without separating the two, you will break the socket. Remove the sleeve using the spanner socket. It may be stuck in there depending on whether it's ever been removed, go slowly and gently.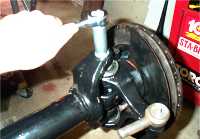 After the old sleeve is removed clean out the threads and insert the new sleeve. Tighten the lower ball joint nut first and then proceed to thread in the new sleeve. You will notice the ball joint rotating in an oblong manner as the threads tighten. Continue to rotate the sleeve until it becomes tight and is in the correct location to adjust the camber angle. Install the angled washer that came with the sleeves and reinstall the nut. Torque to 50 ft/lbs and reinstall a new cotter pin.
Rotate the steering to make sure the ball joint do not rotate in the sleeves. Reinstall the wheels and check on the results of the adjustment. I recommend periodically checking the ball joint washer and nut to make sure nothing has moved.
Toe, Caster, and Camber – What does it mean and how to adjust it. Jeep Steering Alignment 101
Check the toe in. Correcting the castor/camber will affect the toe-in adjustment. See Adjusting your Jeep's Toe-In.