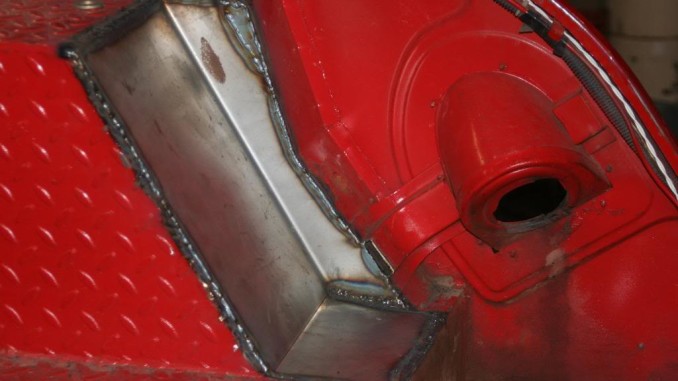 Have you ever tried to stick nicer seats in a tiny CJ-5?  Often only simple non-reclining seats fit and even then if you are taller than 6′ you will have to squeeze yourself in.  A solution for the not-so-novice is to cut a chunk out of the inner rear fender to allow the seats to move further back and possibly recline.
To start though, you still should stick with a simple seat.  If the sides and back of the seat get too thick and complex it's going to still make problems.
A jeepfan.com reader Sean did a masterful modification job to his 75 CJ-5 and we wanted to share.
Sean carefully marked out a 3″ section of the Jeep's inner fender and started cutting.
New steel pieces were cut an bent to properly fit in the fender hole.  The new pieces were welded into place.
After the new pieces were welded in place the welds were cleaned up and the entire area was primered and painted.
In addition to the body modifications Sean modified the seat mounting brackets to accommodate the new seats.  Note: Sean also removed the factory tool box from under the passenger seat.
Sean's modification is near perfect, he can now sit comfortably in his Jeep.