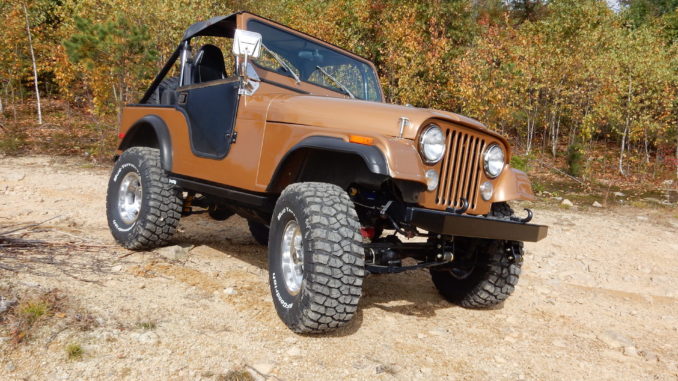 After the installation of the new suspension some further sprucing up of the jeepfan.com 1978 CJ-5 was in order. The Mickey Thomson MTZ tires on the Classic II wheels served the Jeep well from both a performance and appearance perspective but a look change just felt needed.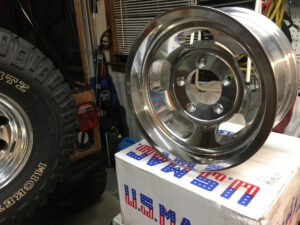 US Mags makes many styles of wheels but the Indy U101 style is a retro 5 slot mag that just screams the 70's. Many CJ's came factory equipped with the 5 slot aluminum wheels in the 70's and they just look cool. Such a refreshing look from the modern and mostly black wheels of today.
To further the classic look BF Goodrich Mud Terrain tires seem so natural on a CJ so we chose a set of 33×12.50×15 tires to mount up to the US Mags wheels. It's too bad the KM2 style is the only offering today, a set of the original style would complete the look but that's progress.The factory slots only came in the 15×7 size which made mounting a 12.50 width tire difficult not to mention that finding factory wheels is difficult and ones in good shape are near impossible. These finds usually bring a hefty price tag. Luckily the US Mags come in many widths and are brand new, mounting a 12.50 on a 15×8 is just perfect.
During the spring/summer of 2016 there was a nationwide shortage on BFG Mud Terrain tires that made the wait for these to arrive almost 3 months long, hard for anyone to take but the BFG tire was the choice. After they finally arrived they were loaded in the jeepfan.com 2016 JKU RHR (try that in a CJ) and were taken to OK Auto for mounting and balancing. A shot below shows the new next to the old.
With no more delay we mounted up the tires and wheels to the CJ and it was a beautiful site. The retro look still maintained a bit of a modern flair – it didn't disappoint. The 4″ backspacing of the US Mags wheels (most have 3.5″) kept the tires in a near perfect location for a Jeep with Wide Trak axles.
Resources
This and other Jeep parts are available from Quadratec