In the early stages of the jeepfan.com JK we installed a 2.5″ Tera Flex Budget Boost lift kit. The kit has served the Jeep well in the year it was installed but it has come time to upgrade to a "real" lift that includes shocks, springs, etc.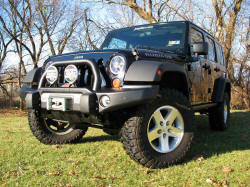 What's the difference?
The Tera Flex Budget Boost kit is an excellent starter lift. This particular lift is of a kind called a coil spacer lift. In simplest terms the lift adds spacers to the top of the Jeep's coil springs to add a certain amount of lift. These lifts will add ground clearance and allow for larger tires but do not increase suspension travel allowing greater suspension flexibility.
How high?
Since the jeepfan.com JK is a daily driver and we wanted to stay in the 33-35″ tire range a 3″ lift would be perfect. More than likely the gain in ride height between the Tera Flex kit and the BDS will be minimal but the off-road handling and articulation improvement will be significant.
Why BDS?
We have had a long time loyalty to the BDS products. From the common YJ to CJ lift conversion to the JK all the BDS products we have installed and used have never let us down. BDS includes their "No Fine Print" guarantee on all their suspension products. In simplest terms if a component breaks they replace it.
Specifics: Coil Springs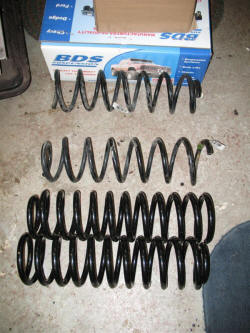 BDS JK coil springs (like all of BDS Jeep coils) are specifically designed to go to full coil bind. This means that they can totally collapse on themselves to the point that all of the coils are touching. This is accomplished by using a better grade material and taking a few extra steps in the manufacturing process. This ensures a top quality springs that is pretty much indestructible as far as coil springs go. Some companies will just take the factory spring specs and add height to them, while we start from the ground up and design our springs from scratch. The factory design has no where near the compression ability that our springs do. If the stock spring collapsed beyond its design constraints, the material will be fatigued and not be able to maintain its intended ride height (it will sag).
Specifics: 9500 series shocks
These shocks are correctly valved for the applications that they are used for. High pressure gas mono-tube design. These shocks come with a brushed metal finished that is clear coated to ensure an excellent finish for a long time. BDS has a Jeep who's shocks have been on for 2 years and still look new – which is amazing in Michigan with all the salt that is put on the road in the winter
Specifics: Front Track Bar: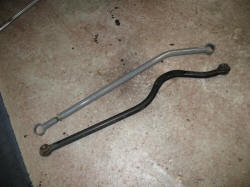 The front track bar itself is made from solid steel round stock with precision machined threads. This ensures excellent strength and durability without any flex. Much better then a tube style track bar. The best feature of this replacement adjustable track bar is in the bushing design. The bushings included with the track bar are specially made with a high durometer polyurethane. These extra-stiff bushings (15% stiffer then standard polyurethane bushings used in other aftermarket suspension components like control arms) ensure that the track bar will be extremely solid and have virtually no bushing flex. That means a tighter feel at the steering wheel and no chance of death-wobble resulting from too-soft, sloppy bushings.
What we are installing…
The kit we are using on the jeepfan.com JK is as follows and contains…
Base Kit
– 3″ Coil Springs
– 4 BDS 9500 Series Gas Shocks
– Rear track bar drop bracket
– Bushings, bolts, and misc
– BDS 5500 Series Steering Stabilizer
– Front castor adjustment bolts
Add-on
Adjustable front track bar