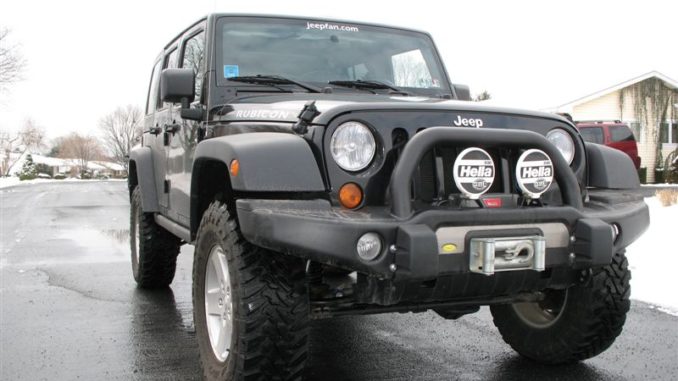 Lifting a Wrangler JK or TJ will cause the axle to shift to one side due to the increased angle of the front track bar. In the rear adding a drop bracket will correct the angle and place the axle back where it belongs. The front is a different story. The steering drag link and track bar need to stay on the same angle or bump steer will occur. Two solutions exist to correct this issue.
One is install a track bar drop mount AND install a drop pitman arm of the same amount of drop. The other and simpler solution is install an adjustable track bar. Since we opted for the adjustable track bar we are now at the point to get the axle centered.
With the Jeep parked on a level surface measure the distance from the level to the center of the wheel. Repeat on the other side. Determine the difference. Unbolt the track bar from the axle and with the help of another turning the steering wheel remove the bar from the mount and thread the end out to move the axle more toward the passenger side and thread the end in to move the axle more toward the driver side.
Get the measurement as close to the same as possible. When complete tighten the jam nut.
Adjust the Steering Wheel to Center
With all the computer control in the JK it's no wonder it even affects the steering wheel. The clockspring sensor monitors steering wheel position for proper operation of the ABS and traction control systems. We had first hand experience of what happens if you drive the Jeep with more than a few degrees mis-adjustment of the wheel.
We took the Jeep for a quick test run after the install and the traction contol went nuts just driving straight down the road. Evidently the ESP system thought the Jeep was sliding since the wheel was turned and the wheels were moving straight. Lesson: Adjust the wheel before driving.
With the wheels as straight forward as possible loosen the clamps on the drag link length adjuster. Rotate the adjuster until the wheel gets to center. You may need to adjust it several times to get it right.
After images
Wrapping it Up
After a good test drive recheck all bolts. Recheck the bolts again after a few hundred miles. It is also recommended to have an alignment done by a reputable shop. We will be having OK give the Jeep a once over in the next few weeks.
So far the Jeep rides great, an actual improvement over the stock ride. The BDS shocks make the ride smooth but firm when going over the bumpy stuff.
Continue this project with us and check out the articles about the alignment, front caster adjustment, and steering stabilizer.
For more information or pricing visit


or