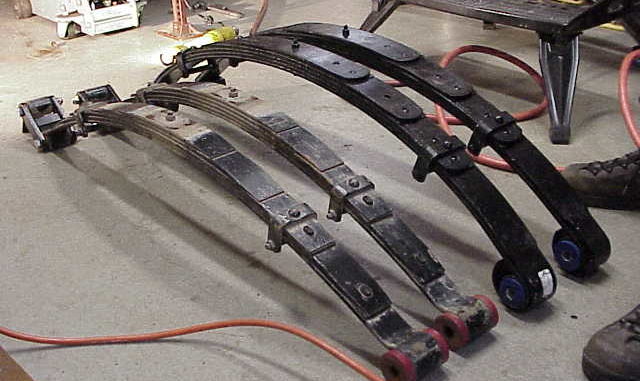 We are ready to get into the nitty-gritty on this project, Ralph from www.offroaders.com came to lend a hand, many thanks to him. As with any project make sure you are comfortable with doing this kind of work and double check everything after you are finished. Some details of this project may not have been included.
To start out with the Jeep needs to be secured on jack-stands to remove the weight from the springs (a). Remove the sway bar, u-bolts, shocks, and u-bolt plates (b & c). The upper shackle mounts then need to be removed. I needed to fire up the torch (d) to heat up some stubborn bolts to ease removal. Do your best not to break these bolts because drilling and re-threading these are not fun.
Here is a comparison of the Skyjacker springs to the BDS springs (e). With both front springs removed there is a rivet on both sides that needs to be removed for the new upper shackle mount. (f). I used a sawzall to cut off the butt of the rivet (g), then we drilled into the rivet to weaken it a bit (h). A large hammer an punch were then used to remove the rivet completely (i). After both sides were removed we used a grinder to smooth out the area and remove some burrs (j) the area was then painted.
Next the new BDS springs were laid into place and the fixed mount bolts were installed. (k) The new Rock Equipment upper shackle mounts were installed using the existing forward most bolt hole and the hole where the rivet used to be. (l) New grade 8 bolts were used for all the mounts. The front shackles were installed using the greaseable bolts, also some grease was added to each friction point to allow everything to move freely. (m & n)
| | | | |
| --- | --- | --- | --- |
| (k) | (l) | (m) | (n) |
With the shackles installed the axle could be placed back on the springs. One discovery that appeared was that the locating bolt in the spring pack was too high and was not allowing the axle to sit on the spring properly. I clamped the spring together and removed the bolt to trim it down a bit. (o, p, & q). ***Note, This may not need to be done. After driving the Jeep I realized I needed to add a shim to correct the caster angle, the shim would correct for the excess bolt head***
| | | |
| --- | --- | --- |
| (o) | (p) | (q) |
After reassembling both spring packs the u-bolt plates and u-bolts were installed (r) take care to tighten the u-bolts evenly. Since the shocks were not long enough and were being replaced they were not installed yet, also the sway bar was left off for now. After everything was tightened up the wheels were put on and I pulled out the Jeep to turn it around and take a good look. I was immediately apparent that the Jeep was considerably higher (s). I had to remove the top to get the Jeep out of the garage. (I guess a story on how to enlarge your garage door opening is next!)