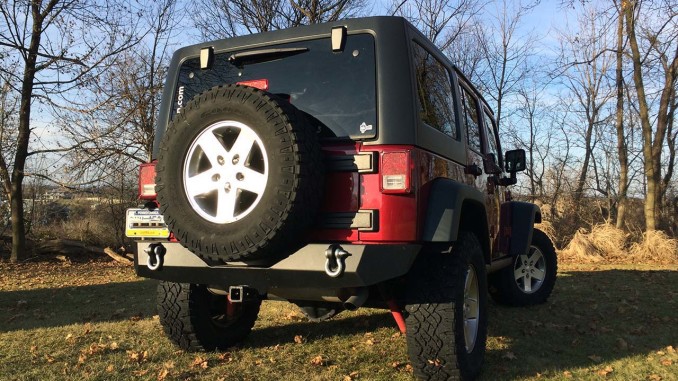 After installing the Barricade Trail Force HD Front bumper on the jeepfan.com JK we knew the rear would be in the Jeep's future.  We chose the Barricade Trail Force HD Rear Bumper to match and the bumper didn't disappoint.
The bumper comes in two versions one with a tire carrier and one without.  Since we have kept the jeepfan.com JK in the weekend Jeeper category the one without will suit our Jeep fine.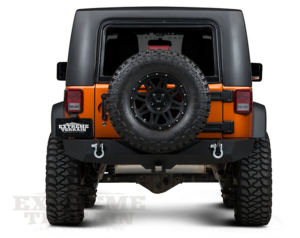 Details
Rock Crawler rear bumper (83 lbs)
Heavy duty 3/16″ steel construction
2″ standard hitch receiver
Can accommodate up to a 37″ tire
High strength D-Ring mounts w/ D-Rings included
Two stage textured black powder coat finish
Fits 2007-2015 Jeep Wrangler JK
3 Year Limited Warranty
Installation
The installation is pretty simple and should only take an hour.
First Look
The bumper came in a huge box and was well wrapped with all the parts.
Getting Started
Remove the factory bumper, tow hook, and receiver (if equipped)
Bumper removal is pretty simple, there are 8 bolts.  2 on each side and 4 underneath.  Remove both underside bolts, the bumper will not come off with the brackets still attached.
Remove the bumper. Since we had a 2 inch receiver on the Jeep that needed to be removed along with the factory tow hook.  Earlier JK's may have the tow hook in the center.
Before installing the Barricade bumper insert the bolt plates into the frame rails to line up with the pre drilled holes.  Then place the Barricade bumper up to the rear of the frame.  It helps to have a helper hold the bumper until some bolts are installed.
Place the rear reinforcing plate to the back of the frame over the receiver and insert the 4 provided bolts through the frame and bumper mounts.  Install the 4 provided lock nuts and washers.  Don't tighten yet.
Install the 4 provided bolts with lock and flat washers into the side mounts.  We found it easier to tighten the 4 center bolts then the outer bolts.  Make sure all bolts are tight.
At this point the bumper is installed.  The final thing we did was secure the trailer light plug to the frame crossmember.
The bumper is much more formidable compared to the plastic factory bumper.  We removed the D-Rings when not in use since they will clank around and wear the finish from the bumper.
The bumper offers much more clearance to the rear tires.  Optionally you may want to consider trimming the piece of the rear fender lining that originally merged into the factory bumper to clean up the install.
Visit ExtremeTerrain.com to see all the JK Bumpers and Bumpers for other Jeeps.  For pricing and more information about this bumper – see Barricade Trail Force HD Rear Bumper