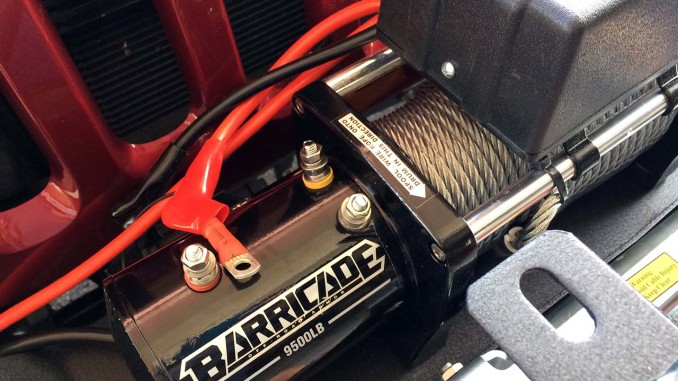 After installing the Barricade Trail Force HD Bumper on the jeepfan.com JK we knew a winch needed to go on to fill the spot in the center of the bumper.  We knew we wanted a 9500lb winch but didn't want to break the bank, after some research and comparing we decided to go with the winch that matches the bumper.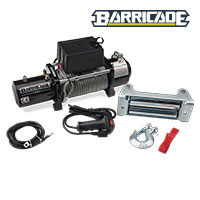 Winch Specs
9,500 lb., (4310 kgs.) single-line pulling capacity
5.5 hp, 12 volt, series wound motor
3 stage planetary gear with a 195.4:1 ratio
94 feet of 21/64 inch steel winch rope with replaceable hook
Line speed under full load is 6.4 feet per minute
Weighs 58 lbs and is 21.1 inches by 6.3 inches by 8.6 inches with a mounting footprint of 10 inches by 4.5 inches
Black powder coat finish
Limited lifetime warranty
Heavy duty rubberized remote control with a 12 foot lead
Roller fairlead
Universal application
The winch comes with all the parts you need and depending on your bumper or mount installation can take about an hour to two hours.
 Installation
Since our Jeep's bumper has an integrated winch mount that can be accessed without removing anything this installation is simple.  The first step is to mount the roller fairlead to the front of the bumper using the bolts provided.
With the fairlead secured locate the winch to the 4 holes in the mount and install/tighten the bolts.
Install the solenoid to the top rails on the winch, secure using the screws.