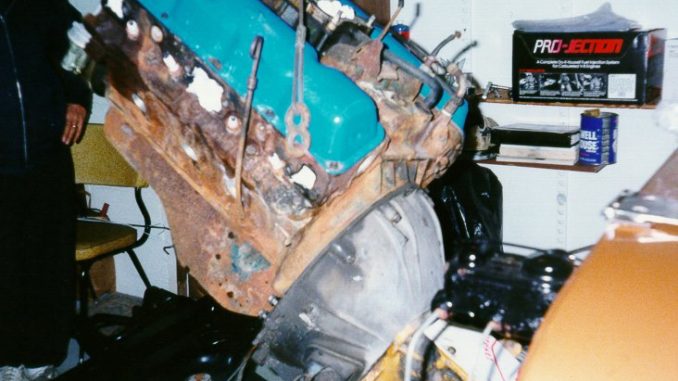 The jeepfan.com 1978 CJ had a tired motor. A rebuild on an engine that is still running good is a tough decision to make. I thought, do I drive it till it dies? or go for it? Well being somewhat of a motor-head out came the engine. Now I am not new to this but I quickly discovered that an AMC is quite different than a Chevy. Pieces were different and were in the wrong place, this quickly wore off (thankfully). I have found after spending a good amount of time with this AMC now a Chevy motor looks a bit strange.
After removing the grille, fenders, and hood I began work at disconnecting the wiring and linkages. Not too long, and the drive shafts were out and exhaust was disconnected. Next we ousted the engine, trans, and transfer case all together. After some cleanup I started ripping into the motor.
Very soon I made some disappointing discoveries, It looks like the engine broke a timing chain at one time, I figured this out because I found that composite plastic material that the chain sprockets are made of in the oil pan. After some more work I pulled the bearing caps and found the bearings were toast. Probably when the timing chain went the engine ran without oil for a little and the bearings wore also this is the time that 7 pushrods were bent.
After the engine was completely disassembled I took the block, crank, and rods to a local machine shop. The block was cleaned and bored .020 over, the crank cut .010 under. New pistons were installed on the rods and things were ready to start going back together. I installed new rings and bearings and assemble began. Now that the short block was done I had a valve job done on the heads and started ordering some performance items.
To start with an Edelbrock Performer Manifold, Camshaft, and Edelbrock dual roller timing chain. I also installed new push rods and Summit Roller tip rockers. It was almost time for it all to go back into the Jeep. I installed a new clutch and gaskets on the trans and transfer case, reattached them to the engine and in it went. I hooked up all the wiring and plumbing. I installed a Holley 670cfm Pro-Jection which took some effort and time. Some other items were a K&N Air Filter, 2.25in dual exhaust with Dynomax Super Turbo mufflers, and a 3 core radiator.
After the initial tuning stage the results of my long and hard work were evident. The engine was smooth and strong, the fuel injection provided instant starting and solid off-road performance. I now have one less thing to be concerned about when I off-road and miles away from anything.