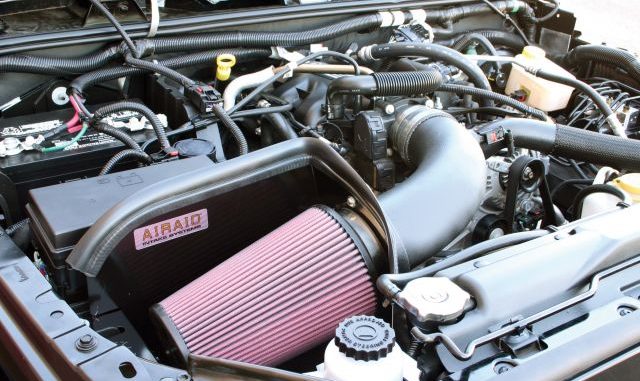 The cold air intake allows the Jeep's 3.8L V6 to unleash a bit more of it's hidden horsepower by increasing the air volume being drawn into the engine. This is accomplished by using a free flowing air cleaner element and a redesigned intake tube.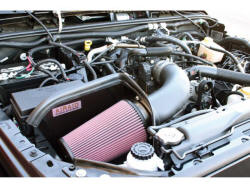 Details
This system features a full length intake tube that draws through a totally redesigned Cool Air Dam. This combination yields a claimed additional 24 lbs/ft of torque (at low rpm) and an additional 14 Horsepower, a plus for all off-road enthusiasts. Intakes are designed to isolate the heat of the engine away from the air inlet, taking advantage of the dense cool air from outside the engine compartment.
What we ordered…
We ordered the complete Airaid package from OK Auto. The kit includes the following components…
* Airaid Premium Filter
* Airaid Intake Tube
* MAF Panel
* Bottom Panel
* Reducing Hump Hose
* 20″ Weather Strip
* Hardware & Instructions
Installation
Following the directions will tell you all you need to know. Be especially careful when removing and replacing the temperature sensor. Installation only requires minimal tools and on takes about 15 – 30 minutes.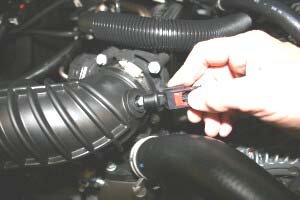 Impressions
The Airaid brings back the old "flip-the-aircleaner" sound. Under hard throttle use the intake makes a deep throaty sound which can be viewed as annoying by some.
The Airaid seems to increase the performance of the Jeep. Most noticeable is the bottom end of the engine's power range.
For pricing and options see the product at


THE DYNO TEST
Together with OK Auto we had an opportunity to test out the Airaid and a Unichip performance chip on a dynamometer at G&S Autoworks in Oxford, NJ.