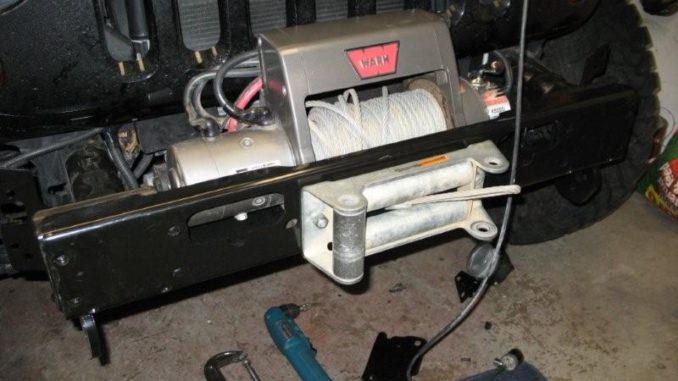 Bumper Installation
Install the winch mount making sure you place the 3/8″ plates between the mount and the frame. Follow the directions for proper tightening and spacing. Place the winch into the mount. TIP: Do not bolt in the winch at this time. You will need to slide the winch side to side to get at the nuts.
Install the tow hooks and side brackets. Follow the directions for drilling the forward bolt holes. Tighten down all bolts.
NOTE: In the directions it is indicated to install two washers between the tow hook and frame. It just didn't seem to work for us so we left them out.
Install the bumper
We found is easiest to install the bumper by placing two of the long button head bolts on each side from the inside out to help hold everything in place. As the directions indicate remove the vertical fairlead rollers to ease installation. Carefully position the bumper and install the button head bolts from the outside. Install the fog lights.

Before tightening install the rear bolts on the inner brackets. TIP: We found it near impossible to install the rear bolts supplied due to their length. We replaced the bolts with longer same grade bolts.
After all the bolts are installed tighten down all of them. It is easiest to slide the winch from side to side to help with tightening the bolts. Attach the fog light wiring.
Installing the skid plate
After all this the skid plate install is kinda easy. TIP: The plate uses self tapping bolts in the front. It is easier to install the bolts and remove them before the plate installation. This will ensure straight threads and avoid the need to juggle the plate and tap the threads. Position the skid plate and tighten the outer bolts.
Drill the four holes in the inner bumper and install the bolts to complete the skid plate installation. NOTE: We could not install the inner two self tapping bolts (which thread into the winch mount) because the holes in the winch mount were pre-drilled too large. In our case we just left them out.
Final steps
Tighten down the winch and rotate the drag link adjuster clamps to avoid contact with the skid plate. Install the winch wiring by routing the wires over the sway bar and following the factory wire harness up to the battery. Attach the winch to the battery and be sure to re-spool it.
Thoughts
There we some issues with installation, as usual but all in all this install went quite well. AEV products are very high quality and the directions will get a 9 out of 10 in our opinion even though there are some inconsistencies. The look of the bumper is just awesome on a JK.
Fast forward to 2010 – Rust problem? You betcha BUT still the best bumper on the market for a JK.