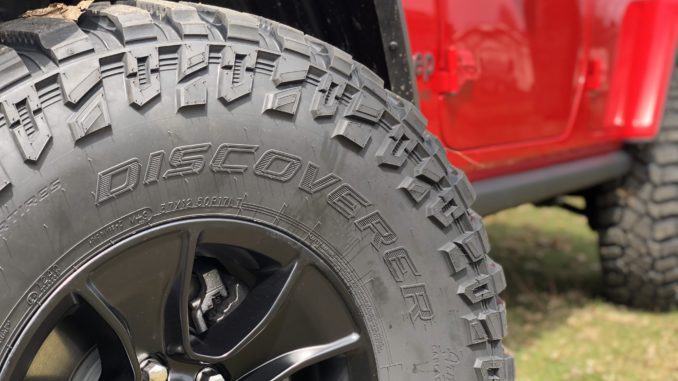 The new Jeep Wrangler JL Rubicon features hi-line fenders as standard equipment. These fenders provide a larger opening that allows 35 inch tires to be installed with no lift and 37 inch tires with a 2″ lift. So that being said it seems that 37″ tires will become entry level tires on the new JL, insane it seems.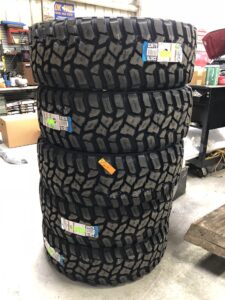 We have been a fan of the Goodyear Duratrac for years but their sizes stop at the 35 so we had to look at something different. Since the jeppfan.com 2018 JL Wrangler is a daily driver that experiences rain and snow tires with sipes are a big plus.
Recently Cooper redesigned the STT tire and renamed it to the STT Pro. These new mud tires are a nice mix of a true mud tire and all terrain. The varied size tread blocks keep the noise down and the sipes make for better handling in snow and rain. In addition, the D rating on the 37″ tire keeps the tire a bit softer making for a better ride in the relatively light JL.
We ordered up a set of 5 Cooper STT Pro tires from OK Auto in Stewartsville, NJ. This size comes in a 12 and 13″ wide tread, we stayed with the 37×12.50×17″ size to keep the tires from sticking out too far and reduce the chance of rubbing.
The factory Rubicon wheels are very nice but at 7.5″ wide they are too small for the 12.5″ wide tires. Cooper states they should be mounted on 8.5 to 10″ wheels. It's possible to mount them on the 7.5″ wheel but they may wear funny and can be dangerous in the wrong situation. We decided to replace the wheels with a set of Mopar Performance wheels that measure in at 17″ x 8.5″ with optimum backspacing of 5.25″.
The TPMS sensors were installed in the wheels and the tires were mounted and balanced. ​
As you can see the Jeep looks great. The 37's don't look huge on the JL, in fact it looks like it should have come this way from the factory. The 8 speed auto in the JL handles the larger tire exceptionally well even with the 4.10 gears. The extra gears allows the transmission to shift as needed. So far fuel milage impact seems minimal and road noise from the tires is louder but rather normal.